Quechua Syllabics (ᕆᐠᒡᕙ ᓯᕆᐤ ᕤᒻᐸ)
Quechua Syllabics was invented by Nima Farid, and is a way to write Quechua languages with Canadian Aboriginal Syllabics. Not all Quechua languages or dialects will use every single syllabic proposed, but hopefully, all of the required syllabics in each specific language or dialect is covered in this invention. The name of the script, ᕆᐠᒡᕙ ᓯᕆᐤ ᕤᒻᐸ (Qhichwa siq'i llumpa), means "Quechua writing System".
This particular script was designed for Quechua specifically, but it can also be further refined for use of Aymara, Guarani and other nearby indigenous languages in South America.
Notable features
Type of writing system: syllabary
Direction of writing: left to right in horizontal lines
Used to write: Quechua languages
Based on Canadian Aboriginal Syllabics
The script also includes some additional characters that are not originally from Quechua, namely the characters "Z" and "Sh". These are to be used for loanwords from Spanish, as they are quite common in Quechua.
Vowel diacritics function opposite of how they do in Canadian Syllabics. In Canada, the dot above a vowel indicates a longer vowel, whereas in Quechua, the dots indicate the shorter version. This is so that the syllabry reflects the history and origins of Quechua, were the original vowels were "A", "I", and "U". "O" and "E" came to be more recently in the history of the language.("Ä" is unique to specific dialects)
Diacritics are used to indicate whether a consonant is to be pronounced aspirited or with a glottal pause. a backslash diacritic is used to indicate the former, and a circle to indicate the latter.
Quechua Syllabics alphabet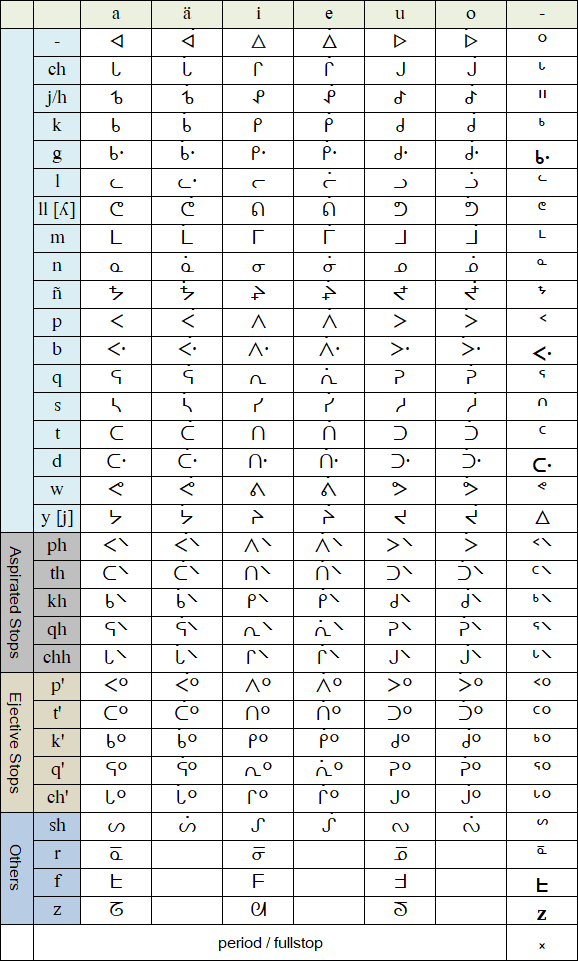 Download an alphabet chart for Quechua Syllabics
Sample texts
Quechua del Cusco
ᕦᐸ ᖝᓇᓐ ᑲᐃ ᐸᒐᐱ ᐸᕋᖜᓐ ᕆᐢᐱᐢᕋ, ᓕᑉ·ᖝ ᖶᓕᐢᕋ, ᐊᕠᓐ ᑲᕝᓴᐃᐱ, ᒐᓂᓐᒐᐢᕋ ᑲᕝᓴᐃᐱ ᑲᓇᓐᐸᕐ, ᔪᔭᐃᓂᔫᕐ, ᔭᒐᐃᓂᔫᕐ ᖝᓇ ᑲᐢᕋᓐᒪᓐ ᕵᓇ᙮ ᕦᐸ ᖝᓇ ᒪᓯᓐᕓᓐᑕᕐᒥ ᕓᐅᕇᓐᑎᓐ ᕵᓇ ᒧᓇᓇᑯᓇᓐ᙮
Transliteration
Llapa runan kay pachapi paqarin qispisqa, libre flisqa, allin kausaypi, chaninchasqa kausaypi kananpaq, yuyayniyoq, yachayniyoq runa kasqanman jina. Llapa runa masinwantaqmi wauqentin jina munanakunan.
Ayacucho Quechua (Chanka runasimi)
ᕠᕝ ᖝᓇᑯᓇᒻ ᓇᓰᐢᕋᓐᒋᒃᒪᓐᑕᐸᒐ ᓕᑉ·ᖝ ᑲᓐᒋᒃ, ᕠᕝ ᑜᖜᓐᒎᓐᒋᒃᐱᐸᐢ ᐃᑻᐊᕦᑕᕐᒥ ᑲᓐᒋᒃ᙮ ᔪᔭᐃᓂᔫᕐ ᑲᐢᕋᓐᒋᒃᖞᐃᑯᒻ ᕹᕝᑲᕦ ᐊᐃᕤᓐᑎᓐ ᕵᓇ ᑲᕝᓴᐃᑕ ᑜᐿᓐᒋᒃ ᕦᐸ ᖝᓇᑯᓇᕓᓐ᙮
Transliteration
Lliw runakunam nacesqanchikmantapacha libre kanchik, lliw derechonchikpipas iguallataqmi kanchik. Yuyayniyoq kasqanchikraykum hawkalla aylluntin hina kawsayta debenchik llapa runakunawan.
Quechua
ᑐᑯᐃ ᑲᐃ ᐸᒐᒪᓐ ᐸᕋᖜᒧᐦᑯᓇ ᓕᑉ·ᖝᐢ ᓇᓰᑯᓐᑐ ᑐᑯᐃᐳᓂᑕᐦ ᑭᑭᓐ ᐆᑉ·ᓕᑿᓯᐆᓃᐢ ᓂᐃᐦᕦᑕᐦ, ᕵᓇᑲᒪᕦ ᕸᓅᖟᓂᔫᐦᑕᐦ ᐊᑎᐃᓂᔫᐦᑕᐦ, ᒐᓐᑕᕋ ᖞᘕᓐᕓᓐᑕᐦ ᑰᓐᓯᔩᓐᓯᔭᕓᓐᑕᐦ ᑠᑕᐢᕋᐦ ᑲᐢᕋᓐᑯᖞᐃᑯ, ᑲᕝᓴᕇ ᒪᓯᐳᖞ ᕵᓇ, ᑐᑯᐃ ᐅᐦ ᒧᓇᑯᐃᕦᐱ ᑲᕝᓴᑯᓇᓐᑯ ᑎᐊᓐ᙮
Transliteration
Tukuy kay pachaman paqarimujkuna libres nasekuntu tukuypunitaj kikin obligacionesniycjllataj, jinakamalla honorniyojtaj atiyniyojtaj, chantaqa razonwantaj concienciawantaj dotasqa kasqankurayku, kawsaqe masipura jina, tukuy uj munakuyllapi kawsakunanku tian.
Quechua de Ambo-Pasco
ᓚᐸᓐ ᖝᓇ ᑲᐃ ᐸᒐᒍᐤ ᔪᖜᓐ ᓕᑉ·ᖜ ᑲᕓᓇᓐᐸᕐ, ᓚᐸᓐᒋᓄᐃ ᐃᕓᓪ ᖜᐢᐲᑕᔕ ᑲᓇᓐᐸᕐᒥ, ᒪᓇᐱᐱᐢ ᕹᖝᐹᓇᓐᐸᕐ ᓚᐸᓐᐱᐢ ᐃᕓᓪ ᔭᖟᐸᒐᐤᑯᐃ ᔭᒐᐤᕐᒥ, ᐊᓕᑕ ᒪᓇ ᐊᓕᑕ ᑕᓐᑎᔭᖟ ᑲᕓᓇᓐᐸᕐ᙮ ᒐᐃᓄᐃ ᖝᓇ ᒪᓯᓐᕓᓐ ᕷᒃᓂᓐ ᕷᒃᓂᓐᕓᓐ ᑯᔭᓇᑯᖟ ᑲᐹᑯᒍᓐ᙮
Transliteration
Lapan runa kay pachach'u yurin libri kawananpaq, lapanchinuy iwal respetasha kananpaqmi, mana pipis jarupänanpaq, lapanpis iwal yarpach'akuy yach'aqmi, alita mana alita tantiyar kawananpaq. Chaynuy runa masinwan juknin jukninwan kuyanakur kapäkuchun
Translation
All human beings are born free and equal in dignity and rights. They are endowed with reason and conscience and should act towards one another in a spirit of brotherhood.
(Article 1 of the Universal Declaration of Human Rights)
Information about Quechua | Phrases | Numbers
Constructed scripts for: Ainu | Arabic | Chinese languages | Dutch | English | Hawaiian | Hungarian | Japanese | Korean | Malay & Indonesian | Persian | Russian | Sanskrit | Spanish | Tagalog | Taino | Turkish | Vietnamese | Welsh | Other natural languages | Colour-based scripts | Tactile scripts | Phonetic/universal scripts | Constructed scripts for constructed languages | Adaptations of existing alphabets | Fictional alphabets | Magical alphabets | A-Z index | How to submit a constructed script
[top]
---

Why not share this page:

If you like this site and find it useful, you can support it by making a donation via PayPal or Patreon, or by contributing in other ways. Omniglot is how I make my living.
Note: all links on this site to Amazon.com
, Amazon.co.uk
and Amazon.fr
are affiliate links. This means I earn a commission if you click on any of them and buy something. So by clicking on these links you can help to support this site.
Get a 30-day Free Trial of Amazon Prime (UK)
If you're looking for home or car insurance in the UK, why not try Policy Expert?
[top]