Oljōrōdhṓn Qedesjā́qe Lopks
by Evgeny A. Khvalkov.
Modern Indo-European version by Fernando López-Menchero Díez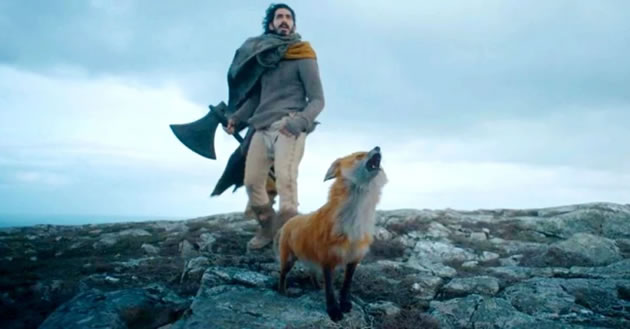 An Oljōrōdhonos qedesjãsqe l̥pəkos kéklouta sqetlom? Tebhei wedōm!
Olja pos, qedesjãs lopkes dom dhóubhnosjo stā́noisu édqoisu edjḗu ad céiwonti. Kolis n̥móghnijom esti tāns labhtum jodqid qédesi welmí kr̥terãs tāi.
Enim qr̥tusí, jom lopks tālis widhum perti dhewet joqe osdons dousmonsqe orsō tn̥get, orsēd spelges keml̥-ā petont joqe opi dhghm̥-ā pédjonto; leudhãs spelgn̥s tāns skoudostérn̥s nōmnājont. Nū, edqom qedesjãs lopkes dhghmonn̥s énteri mlȫskont. Tod m̥bhi sqetlom-nos qélseti.
Ōlim senos ekwíts Bertoari qróqoni tr̥bhāt, joqe ismōi trins bhūnt sūnewes. Sénosjo wīrī́ mr̥tosjo, prǟwognós bhr̥ghom oudn̥qe solwod orbhjonomést, swēdhum ad, medhəmós sūnús prekonjom sākrodhotstānom orbhjonomést, jewisəmósqe, Oljōrōdhṓn, todoinod pətros n̥sim wetésm̥qe ekwom ēpe. Sénistəmos sūnús ismōi bharsjokloibhom dōt persnāmqe oimōi enim sqet áljote apo eitum sāgitéwijãi rējéi.
Oljōrōdhṓn itenei ōkinós bhūt joqe m̥bhi Ati·arnom-de eitum mənto rēgos Teruwonjos alkim ad. Eno, seqont, tregsnons protónsqe atlons dōsnū́ apo luwet. Joqe Oljōrōdhṓn Ati·arnom polim sodét.
Daitis edqā epi qlë̄to. Oljōrōdhṓn ləgnos ghr̥dhnosqe bhūt, enim ghostewei némesos margeni sodét. Au wele, l̥pəkos dr̥kā ud qoleinād opi mənīsto. Lopks Oljōrōdhónm̥ spékjeti, joqe Oljōrōdhṓn lopkm̥ spékjeti. Enim lopks ismōi weuqét: Esúm epontm̥, juwon wīré. Deirā persnā idhei tebhei. An pr̥snām dáisēsoi?
Joqe eti swei Oljōrōdhonei nē pitjā́ aljā loiqā́ ēst, qām bharsjom persnāqe, wesus bhūt coimos, utá l̥pəkei dōt persnapr̥snām joqe ismōi sqet qota bhrāteres ī pro wr̥stōs ēsn̥t, enim Ati·arnom-de eit rēgos Teruwonjos alkim ad.
Speksi- lopks sqet, - an twojē ejom toughā́mqe-mo kōnājõi? Wesus coimos tū, woida, mō welmí sm̥plomenḗs, joqe egṓ óljoisu dhwéresom widn̥sú, joqe an tebhei jewōm. Joqe jom Adtiarn n̥knéwomosi, rēgos Teruwónjosjo woróm médsesi, joqe egṓ medhiwodós Berengarei Kr̥krokélmonei bheusō. Joqe olja wéidena dn̥ghwām woida:
Garegeinom, Adelneinom, eti Igeruldom dn̥chwām.
"Sū" Oljōrōdhṓn sqet, "mudróteros bhéuseti sm̥·ojos. Moimi ludhe".
Ati·arnom polim sodónt. N̥dha en trājónt, joqe Teruwonjos rēgs Oljōrōdhónm̥ swojóm kelmonm̥-iwe emét, josmēd woropotis senos júwenos wīrosjo mr̥topətros prijonts bhūt, joqe Oljōrōdhṓn pətrei dr̥kām, dhr̥stim oumomqe pr̥pāt. Joqe lopks kr̥krokēlāi en sedét enim oljons dn̥ghūwoidō esjo dhōbhést: skroibhãs, gr̥nonojṓs, kr̥kronojósqe, rēgsqe so-pe l̥pəkos m̥bhi widjā́m dhm̥bhējānt.
Wédhrijā bhūt rēgei dhugtḗr. Jom epi Oljōrōdhónm̥ widét, dhwolnēd ismi enlubhtā́ esti; juwōn wīrós toqe wlǟtimnī́m ad nē m̥bhimenḗs bhūt. Nū swēdhus regjoi bhūt, jod wlǟtimnī́ nē todoinod wīróm josmōi kērd kéisāto apódhōmotos eksí legtum móghsāto, immō eti pətr̥rēgs so-pe, jota kolis sólwoisu régjoisu ptōtis esti, dhugtérm̥ dhōmóm ad sewe ad proketum nē móghsāto.
Məglos āgus esn̥qos, joqe josqisqe wikoit, toqe wlǟtimnjãs ghserm̥ əpjonqós. Enim josmēd wédhrijā bhūt wlǟtimnī́, oināqe Teruwónjosjo rēgos dhugtḗr, joqe rēgs jāmi geronts bhūt, kr̥kronojós gr̥nonojṓsqe im westéwijãi wlǟtimnjãi moghsútenom āgeus m̥bhi ademn̥ dhrogheskont.
Wélmosi- weuqónt - nosbhos tewe apm̥nom uposoqóm bheutum - klutóm, dhr̥sum, meneswóm joqe sólwotos smerjom wlǟtimonm̥ ekwítm̥we; nē rēgos qolpom aljom n̥kḗjomosi.
Rēgs apo dōtum āgumqe adetum skelsto. Oljōrōdhṓn domm̥ upóstanēd creughos wr̥teto, joqe lopks im prēkst:
-Qī tū tām creughos, prijont? Qid nāsm̥-two lémbesi?
-Qota nē nāsm̥ lembõ! - Oljōrōdhṓn proti weuqét. Rēgs āgum ud nowe, joqe josqisqe wikoit wlǟtimnjãs ghserm̥ épseti, joqe lubhtā́ mene ghostijóm wlǟtimonm̥ ekwítm̥we ad éiseti.
-Qori ā́gewi aitim nē émesi?-lopks sqet. Eti swei pəter tewe ormos bhūt ekwíts, joqe tū eti órmoteros, nū atlogenḗs enim genmōr tewe nē regjḗd n̥dheróm. Epi tū belowénts bhudhimenḗsqe wīrós.
-Wērom tod, Oljōrōdhṓn sqet. Nū qeisāi idhei probhwāns nē nitjāns bheusontn̥s; nē: ghoisoweikmn̥, arqoskeudmn̥, n̥siweikmn̥.
-Egṓ aw tebhei esmi! Tebhei regjoisu próbhuwāsi jeusō.- Lopks sqet.
Oljōrōdhṓn tod m̥bhi mn̥to joqe plākḗst. Joqe lopkts sūjom swojést, joqe ghl̥tonãs júwenei dhghmenei spelges pedonto -joqe eti swei Oljōrōdhṓn wélnijos prāi bhebhūt joqe tālis dhr̥sumenḗs qālis paukōs bhūnt, nū qedesjã deito lukḗ, joqe tridkm̥tōm wīrṓm belom ismōi bhūt.
Jom āgudaitis ludhét, rēges, wlǟtímones, deukes, sm̥·ites, prijākōs ekwitesqe peri éperād solwād moljād, eti perimorjo·énslājos, Ati·arnom-de ludhónt. Prǟwōs trejes dhochōs keldā́koisu, jeghmeni, dəpeni tr̥tōs senti, joqe Oljōrōdhṓn óljoisi kḗterojos prāi bhūt: ghoisostrudmeni, n̥sistrudmeni, arqoskudmeni, wn̥ki·arqoskudmeni joqe ligmeni, joqe tām klisrós prāi wr̥tāto, wēros wlǟtimjãi prokós-iwe! Nū regjãs probhwãs kr̥skróterãs alkīligesjós
Daitis prǟwãi bhūt probhwãi. Joqe rēgs sqet:
"Lorkelmos Morimóntijos deuks péruti qedesjá meghei dédōwe sḗmona, qa osonim penqekm̥templā́m gignont, joqe tosmēd bhr̥ses bharsjom tām qedesjī́ qā́litjosjo sent jod oinā pr̥snākā uguséi altéwijōi sārā́. Agroqolṓs mene smeirātlom tod ágroisu sēsn̥t, enim smā, osonis n̥praistətā́. Nū, dustoughā́ esti: edqis neqti cm̥sket enim bharsm̥ est. Joqe jom woróns n̥gnȫtoi bhōrei labhtéwijōi smeitom, oljoi dr̥mijont. Qis weserṓm, klewestṓs ekwites, qedibharsins mene agrons léksseti, joqe somomēlim kelgāwéntm̥ bhōrm̥ labhlós, meghei néiseti?"
Rēges, wlǟtímones, deukes, sm̥·ites, prijākōs ekwitesqe oljoi peridhm̥bhlṓs bhūnt, ita toqe Oljōrōdhṓn. Dōm ludhét enim l̥pəkei regjóm m̥bhi smeitr̥ wedét. Joqe lopks sqet:
"Woida qis bharsm̥ klepet: srunghōn apn̥kos so. Kludhí moi, kom noqtm̥ sū swepe, joqe éjomos neqti bhōrm̥ sr̥wātum. Todoinod, usiteurmn̥ mē mr̥seso"
Ita dhent. Joqe n̥qtos rēgīs, wlǟtímonīs, dukī́s, sm̥·itī́s, prijākīs, ekwitī́sqe oljoīs eksí sodlóīs, ad srunghōn apn̥kos plǟto enim bhugenḗ bhr̥met, tom-ki oljoi dr̥mont.
Oljōrōdhṓn eksi·ojēd prāi ousins turét, jota lopks wewoqt, enim nē dr̥met. Jom epi bhōr regjoisú ágroisi jewedhjom kənet, Oljōrōdhṓn lopksqe srunghōnm̥ apn̥kom labhmenē kənetām. Djēuks im nē perimoghsi menqid lopks, srunghōnm̥ apn̥kom epi keklós, snēwr̥ ismōi cəlet.
Wēsrei, Oljōrōdhṓn srunghōnm̥ apn̥kom rēgei nijét. Rēgs dhm̥bhros bhūt, enim Oljōrōdhonei cəret moitmodhḗtqe. Ghóstijōs rēges, wlǟtímones, deukes, sm̥·ites, prijākōs ekwitesqe r̥sewes bhūnt. N̥qti supónt dom Oljōrōdhṓn lopks srunghonm̥ labhónt! Joqe Oljōrōdhónm̥ proti jāwānt, aw wī nē dikānt.
Dwoterãi probhwãi daitis bhūt. Joqe rēgs sqet:
"Péruti Aidhelstānos Damyritānós rēgs meghei ghl̥tōwl̥nesom ówijom dédōwe gregm̥. Nū ksneutidaitis. Eisom wĺ̥nā merom ghlȫtom; nū seqōm ówejes tāi welmí bhīlewes, enim nū ad neqis ins pektum dhédhoche. Qis weserṓm, klewestṓs ekwites, owins pékēti enim ghl̥tōwĺ̥nām sm̥ qilós mewom ad bhérēti?
Rēges, wlǟtímones, deukes, sm̥·ites, prijākōs ekwitesqe oljoi peridhm̥bhlṓs bhūnt, ita toqe Oljōrōdhṓn. Dōm ludhét enim l̥pəkei regjóm m̥bhi smeitr̥ wedét. Joqe lopks sqet:
"Tod nē kr̥skom, prijont-mo Oljōrōdhón. Kludhí moi, kom noqtm̥ sū swepe, joqe ausrjom éjomos ghl̥tōwl̥nésn̥s owins ksneutum".
M̥ri, wlǟtimnīghsrós prokṓs ghl̥tonopokins owins labhtum kənont, aw ówejes ōkewes tremewesqe bhūnt, enim neqis ijos ghl̥tōwl̥nãs ksnutā́m oinām pr̥snām dhecht.
Postəmēd Oljōrōdhonos bhūt weiks. Tom-ki, lopks, esjo bhidhijós prijonts, kólnikoi jodhei ówejes pā́santo sedét, eksí surmā́m dhrāghst joqe robhemn̥ kənet. O! an tod menesbhertum moghsēs, qos swonmoqolpos bhūt! Ówejes oljoi wl̥péī peri gāgrn̥to joqe qedesjṓi swénmenei kluwānt qədnãs-iwe, enim nū owiksneutus Oljōrōdhonei reidhos.
Utá nē todoinod ówejes qədnãs; skīrós swonmostonos rēgm̥ qodést, alkinojóns, slougom oljonsqe ádwesontn̥s; oljoi təkēsn̥t kluwóntqe montei-iwe. Nemesos ghwērṓs cīwotōs bhōuljojos koustojosqe eksí ludhónt smeirom l̥pəkos swonmom klutewei. Wəlewā, ghwērrēgs reugos nē dhr̥set, mē qedesjóm swonmom enterlemoit; wĺ̥kwos úlulum mr̥seto joqe usrós téterum mr̥seto.
Eti senā Gretā, Perikaniwrōgei trebhonts pedsəmã n̥dã klutā́ (aljoīs meinr̥ lāmn̥ əneu nē mogho), tom-ki senā Gretā sāpe eksí ludhét swénmenei kleut. Erqos l̥pəkes udgnë̄tos olja swonmotemlom wortést.
Rēgs ghr̥sus dwóteroi bhūt kompl̥tói addəweni, joqe dwīs ghr̥sus tā́lejos qedesjī́ swónmosjo klumeni. N̥dwojḗd Oljōrōdhónm̥ lopkm̥qe moitmodhḗst. Joqe ghóstijōs rēges, wlǟtímones, deukes, sm̥·ites, prijākōs ekwitesqe kolis əresi kr̥dī́meniqe spr̥gont. Joqe eisom sems, Gernebhos rēgs Lodhiródijos sqet:
"An ekwíts so tritjā́m probhwām téruti, énosmōi wlǟtimnī́ bhéuseti, joqe n̥prȫtowentes eti dustóughejes léitsomosi, joqe ormos edqos neros n̥smed altjōs qélsetoi, ghrendhātá káputa! Im en ausrom m̥ri sédsomos tritjā́d prāi probhwā́d enim chénsjomos, ita dusqejos-nos nē qénstéwijom."
Oljoi ita dhḗsontes skidónt. Nū lopkm̥ praiklonoi opi stistāmnom oljaqe kl̥newontm̥ nē gnōrs. Domom ludhét enim Oljōrōdhonei ghóstejom olna m̥bhi ensedwa wedét.
Qid tom dhidhējom? –Júwenis sqet dhghmōn.
"Moi bhéidheswo" - Proti weuqét lopks, "todoinod eti weiktéwijons nemontn̥s etiqe postəmām terutéwijām probhwām memn̥dhi!"
Tritjãi antjomãiqe probhwãi daitis bhūt. Joqe rēgs sqet:
"Bheusontm̥ gm̥rom-mo dluksō dəpē me sōlā́somnom kasterloi esjo, regjā́ prai·emtis skló". Dhugtérm̥ jōlóm proti nē poti dōsō"
Ghóstijōs rēges, wlǟtímones, deukes, sm̥·ites, prijākōs ekwitesqe tr̥cējānt. Smā, kern̥sú eisom m̥gədha bhūnt ghortja bhr̥ghōsqe – nē moghta aw énote rēgm̥ do bhertum djewi semi, neqe Ati·arnom-de ghortja bhr̥ghonsqe ena ad bhertum, eti kr̥tēd drālós! Nū, qetwores opnowéntsəmōs km̥tesnons sm·itū demtorn̥s kurónt joqe bhr̥ghons démtināns krǟsnopoleī upo dikā́sn̥t - bhr̥ghos oinā aw djewi nē démnijā! Oljōrōdhṓn toqe creughos pr̥pet, nū im lopks ad seust enim sqet:
"Rēgwītejei bhr̥ghom tebhei epsonts cāsō, joqe nū jéghmenei leitwōs ghóstibhos apo stistəswó"
Joqe Krūmorikantobhr̥gho-ā wergonts lopks dhēust. Bhr̥ghosjo īkm̥nóm tromeróm spérnijom krūróm plāgotm̥ seqōm. Pélewes kelutores Krūmorikantō pertiludhlṓs énosjo bhoidhosjo tursī́ dn̥tsu cəront. Tursṓs aw dhghmonn̥s, nē lopkn̥s edn̥t, tom-ki neqid troikṓ n̥serṓ bhéitinosjo; epi, tursós nē dmi dītéī kesāi- eksí jeghtewei ijóit
Prǟ́woi, wī lopks bhr̥ghoworóns tursōmbhíqolons aretum skidét; Toi Grājus jurpareikā, Growos bhugānos Grahahamosqe creughmōn bhūnt. Wēr ad dhr̥ghet enim ke̅ukst:
Tercos! Bheugm̥-de! Kote korjō rēgs cm̥sketí enim skrodhnóm km̥tom ad bherti: meldhjã wōns oljons kremā́sjeti
Plā́getos m̥bhíqolōs tr̥cējānt. Qid eibhis dhētéwijom? Joqe lopks sqet:
Bhersi kúdhesdhwe; moghoi an rēgs korjosqe skórdhonesqe wōns nē prétsonti.
Plā́getos m̥bhíqolōs bhīlewes, tom-ki worostānā stn̥tām əneu leiqsn̥t, Grājus jurpareikā alumn̥gouloi kudheto, Growos bhugānos woinodōljoi kudheto, joqe Grahahamosqe creughmōn kalwadodōljoi (ghi kalwadoloubhós plāgots bhūt) ptəkēst.
Tom-ki lopks-nos oljons klāust, eksí wrīndhoighoi epi apo rotā́st joqe en perikani jēst - idhei snā́ntotōd!
Tomdom, upelos plāgots, demspots, wr̥teto joqe m̥bhíqolōm apowosō atqe swetãs l̥pəkos bhr̥ghei swāi n̥qómdhētenō molmō peri dhm̥bhlós. Nū lopks-nos perəmḗd klisrós probhūmanus bhūt, tom-ki ismōi nē kr̥skom plāgotqodesr̥.
Plā́getos crǟtiloubhognōmōn, lopks sólwota periskroibhom plā́getos mərésenom qélomnosjoqe im m̥bhi kléwesos kənet, ólioisu periloghoisu régnoisi.
Moimi weqtéwijom jod plā́getei tosmōi ghebhlāi bhúwātām, joqe menghi álaljoīm strúdātām. Tod-ki lopks prōd mēdst - íterom wornowénsterāns crātins álteresãi álteresãiwe ghebhlãi eksí nijét, menqid tr̥mn̥tos mr̥wāi bhn̥dhei chn̥tjāi.
Tom-ki swādū́ lopks óisote snəghet jodhi skorbhá km̥ra plā́gotei swertá, jota tuskjéi wl̥bhontitī́s kətewei bhrūgmá, joqe dn̥sū wətibhí upélosjo plā́getos erisn̥wī́ káputī skr̥dhét. Joqe tom-apo neqis edqom stā́noisu énoisi kelutórn̥s gheislokēpe chonewe!
Tomdom, Teruwonjos rēgs, alkinojóīs, slougoīs joqe ghóstijoīs rēgīs, wlǟtímonīs, dukī́s, sm̥·itī́s, prijākoīs ekwitīsqe jeghāt, qoi, jota mémonta, Oljōrōdhónm̥ chentum jānt. Kerwowoitāi Oljōrōdhṓn solwēd slougēd apo rupeto oinosqe mənet, joqe n̥dha ghóstejes im weitum kənont. Eisom n̥sejes wodhesn̥to, wn̥ki·arqōs gment, joqe júwenei antjom tod bhūsēt an énosmōi nē lopks!
N̥te lopks, m̥gədhām bhr̥ghom dusworgī́ plā́getos īkusī́ joqe regjóm dlukso·edr̥ idhei adesenei təgusī́, nemos ad jodhei joghos prōd qəlātói spudét.
Tosmi mēloi, sénistā dhrusnā́ némesi enoi bhrēwā bhuwāt. N̥dha, némontom Oljōrōdhónm̥ peri séqomnōm wn̥ki·arqoīs skéudontom, lopks (joqe qedesjā́ lopks posqē bhūt!) mr̥ghū prijontm̥ perti wl̥pídelwim wortést joqe kouloi kudhét, joqe lopks sā-pe juwōn wr̥teto wīrós, arti Oljōrōdhṓn-iwe, ins wī eti nē krisēs!
Ghóstijōs rēges, wlǟtímones, deukes, sm̥·ites, prijākōs ekwitesqe im pos nikskont, joqe Alrondoprepḗs lopks ekwēd nī səleto joqe wetésm̥ təres bhrēwām dō oltrēd kr̥set.
Ghóstejes, wéiqtimām ghsr̥su mənomnṓs, im pos nikónt wetésm̥ dō bhrēwām, itaqe oljoi wəlont.
Tomdom, rēgs ghr̥dhujāt kertsnām welponts. Lopks ati Oljōrōdhónm̥ dhghmonjom swe-peqe wl̥pijóm pr̥ptewe staurést joqe ati rēgm̥ ad wr̥tei.
"Məgjesta"- lopks klisrḗd weuqét, "Arjōi Oljōrōdhonei dekos esti bhr̥ghoi-swo kr̥tsnātum twoi lotā́ "
Rēgs dhm̥bhējāt. "qī, Oljōrōdhón?" Pətros tewe bhr̥ghos dekm̥dinótenom roidhom keti apostətā́, joqe senísterōi bhrātrei orkaregtō áineti.
"M̥neumi tebhei, Məgjesta" lopks speudonts weuqét, "Arjōi Oljōrōdhonei bhr̥ghos estum, epi mgədhótəmā".
Joqe lopks Oljōrōdhónm̥ solwomqe rēgslougom Krūmorikantobhr̥ghōi udhét, kwā-i pr̥noi upelōi ainét plā́getei, joqe nū wl̥piprijn̥téi ainet, Oljōrōdhonei ekwitei.
Bhr̥ghom dhedhəchwoses rēgs epigənús bhūt, jodqid Krūmorikantobhr̥ghos rēgghortjokómwesuterā bhūt, joqe prai·emtis l̥pəkē Oljōrōdhonēqe rēgei slougōiqe idhei aitā́ ghi regjā́ bhūt. Rēgs periqədrós bhūt, joqe tesāi-pe kertsnāi, Alrondowlǟtimnīspondom karst, joqe Oljōrōdhónm̥ altosodjōrbhjom nōmnā́st.
Qid qedesjóm m̥bhi lopkm̥? Joqe lopks, wédhmenos komdhchītosjo, apo litét joqe nemos teqét, sn̥tjotos dom ghwērós smalos ēst, eti swei sētjosi qr̥tusí prijn̥tswétejei ludhāt.
Tod esti, príjontes-mo! Oljōrōdhṓn nē postəmóm l̥pəkei oikenóm pārkst, joqe antjoi rēgs bhūt.
Download a PDF of this story with notes and explanations
---
Versions of Alrond and the magic fox
---
Fables About Animals | Alrond and the Magic Fox | The Second Wish
[top]
---

Why not share this page:

If you like this site and find it useful, you can support it by making a donation via PayPal or Patreon, or by contributing in other ways. Omniglot is how I make my living.
Note: all links on this site to Amazon.com
, Amazon.co.uk
and Amazon.fr
are affiliate links. This means I earn a commission if you click on any of them and buy something. So by clicking on these links you can help to support this site.
Get a 30-day Free Trial of Amazon Prime (UK)
If you're looking for home or car insurance in the UK, why not try Policy Expert?
[top]