Alrond Ed Is Magic Vulp
storia ab Evgeny A. Khvalkov. Sambahsa version by Olivier Simon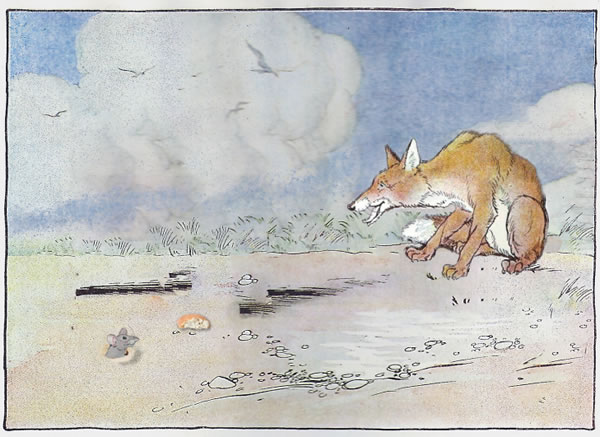 Habte yu aurn id storia om Alrond ed iom magic vulp ? Magho lehge id vos.
Pos hol, magic vulps dar gwive nundiens in sem locs tos mund. Est quasi impossible kape i ob sonti meg magiastaur. Ed yando, quan un talg vulp currt per id forest ed touchet ia ozda ed buska med sien pux, bliutes pleuke ex tod pux do id waurn, ed nipehde ep id grund ; leuds kale ta bliutes skapstars. Lakin, yando magic vulps prehpent bayna menscens. De to vaht ses noster storia.
Uno sme veut ritter gwivt ep Rass Bertoari, ed hat tri sons. Quan is geronto mohr, is atsto son heritit id castell ed id holo land, kemti swohd, is medyo son heritit id parwoik in id village ed un prysterwals, ed is yunst, Alrond, tik diek id einso sienios pater ed un veut ekwo. Is ater brater dahsit ad Alrond un khlayb ed un schynka pro id safer ed sieyg ei fortrehce kay paurske bayga alyer.
Alrond se pariet pro id safer ed mohn de gwahe Adtiarn do id curt os Roy Taravon. Iswert payght bolt ed clever noblens genereus-ye. Itak Alrond gwahsit tod citad.
Sem wakto dohn, Alrond vibihsit strak ed hungric ed sess ghom kay edde ye id kenar ios forest. Enod prohp id lige uns vulp ex apter un kalinabusk. Is vulpo spohc Alrond, ed Alrond spohc iom vulp. Ed is vulp ieyit ei : « Sell posmiddien, yuwen ! Has un bell schynka. Volies tu diles un schtuk ? »
Ed quayque Alrond hieb neid alyo pitu quem ta khlayb ed schynka, is eet un sell karl, edghi dahsit ei vulp un schtuk schynka ed sieygit ei kam eys braters hieb traitet iom ed od is eet gwahnd Adtiarn do id curt os Roy Taravon.
Spehc, - iey is vulp, - kad dehlgiem gwahe con te paurske mienschi bayga ? Es un sell karl, vido, bet es meg nayive, ed som suaversen in vasyalg tricks, ed kad also magho tib serve. Ed quan arrivesiemos ad Adtiarn, joinsies id guardia os Roy Taravon, ed sessiem tulk pro Cancellar Berengar. Sagvo vasyalg bahsas :
Garengin, Adelnian eti id bahsa im Igerulds.
« Gohd, » iey Alrond, « est meis glewos in comgwahe. Gwehm con me ! »
Ed gwahr Adtiarn citad. Arriveer, ed Roy Taravon emsit nies Alrond ka sien personal guarde, isghi hetman iom guardes eet un veut prient ios marhoum pater ios yuwen, ed Alrond samkwohk sien pater in lige, courage ed intelligence. Ed is vulpo pieg in id cancellaria ed surpris quantens med siena gnohsas in bahsas : ies scribes, ies concilers, is cancellar ed ispet roy eent surpris ed hayraniht ab id mensdeh ios vulp.
Is royo hieb un nubil dugter. Yant ia vis Alrond, ia enliubh-se foll-ye de iom ; isschi yuwen ne eet indifferent dia iam princesse. Bet eet un swohd in id roydem kemti-yod ne hatta ia princesse poiss chuses kamlibt iom wir siens kerd, ne hatta poiss is pater-roy, kam est in id fall in quasi vasya rigs, prehscihes iam dugter sekwent sien wi mayn.
Sollit ses uno megil ernu, ed quiskwe bihsiet victor ex id dehlgiet yaschi dake id ghesor ias princesse. Ed chunke ia princesse eet una nubil gwen, ed ia saul dugter os Roy Taravon, ed isswo roy eet ja veutat, is cancellar ed ies concilers bisturb iom kay arrangiet mox un ernu ed wehdeihiet iam princesse.
« Volmos », ieyeer, « habe un dohbro successor pro vos – un klewost, bolt, intelligent, ed kamkwe un wirtic prince au ritter ; ne wanmos alyo genos os roy ! »
Is roy dohlg cedde ed arrange un ernu. Alrond gwirliey ex id draukht yui, ed is vulpo sprohg iom :
« Ma kwehcs tu tem yui, mien prient ? »
« Quosmed ne ses yui ? - antwohrd Alrond. Is roy hat declaren un ernu, ed quiskwe sehlsiet id algvsiet id ghesor ias princesse, ed mien habiba leitsiet uni gospti prince au ritter. »
« Ma ne participes tu id ernu ? - iey is vulp. Tien men pater eet un pauper ritter, ed es hatta meis pauper, bet tien familia est noble ed tien pedigree ne est inferior ibs roys. Eti, es un wir om nerce ed dahia ! »
« Yaghi, iey Alrond, bet kheisso ia preuvens ter nient ses ia adics : mae wighes med piels, strehle med un lonc ni wighes med un eins. »
« Bet tu has me ! Te hehlpsiem unte ia royal ordeils, » iey is vulp.
Alrondo mohn poskwo samstohm. Ed is vulp scussit sien pux, ed golden bliutes nipohd ep iom yuwen – ed quayque Alrond hieb est bell prever ed un deursmenos kam pauks, taiper blig is med uno magic luce, ed is hieb id nerce om trigim nert wirs.
Quando gwohm id tid ios ernu, roys, peursti, hercegs, grafs, barons ed ritters ex id hol West Caust, eti sems ex ia insules ios Archipelegv, ludeer do Adtiarn. Ia presta tri diens buir spens in turniers, sayds ed dapans, ed Alrond udspohrd alters in quant : in pielkatu, fehkhten, arcu, nowstrehlen, ed dans, ed is suloukit tem curtese-ye – kam un druv prohgo pro un princesse ! Bet ia royal ordeils eent meis difficil quem ia dansa ios curt.
Buit id tid ios prest preuven. Is royo sieyg :
« Herceg Larkhelm mi hat daht peruti sem daumosta semens qua deughe un opsen om penkcent, ed id dvan kwohrn ex tod kwoid hat solg daumosta suedsa quem oin smulk schtuk est kafi pro piutes un balirh. Mien nowngmins hant sehn tod daumosgran do ia aghers edghi buit id opsen aunpreceddent. Lakin, est un bieda : semanghen gwehmti nocts ed eddt kwoid. Ed quando yeiso iens guardes kay kape tel negnohn fur, vasyi narce. Quis ex vos, klewost ritters, siet protege mien daumost kwoideinas ed sammel kape el mysterieus brigand ed bringhes el mi ?
Vasyi roys, peursti, hercegs, grafs, barons ed ritters buir perplex, kam Alrond. Is gwirliey ed lohg ei vulp id royal mission. Ed is vulp iey :
« Woidim quel klehpt id kwoid : est el khortoummonster. Kleu me, suaswehp honoct, ed smad gwahe luure el fur nocts. Tik mae myehrs stuppe tien aurs. »
Ies kwohr to. Ed quando nocts vasyi roys, peursti, hercegs, grafs, barons ed ritters abgwahr kay guarde id agher, el khortoummonster prohp ed swohnit med sien appendix – dind quanti nierc.
Alrondo tohg sien aurs pre abgwahe, kam is vulp hieb ei sayct, ed is ne nierc. Tant el fur bigries ia royal aghers, Alrond ed is vulp commenceer kape el khortoummonster. Unte un long wakt, ies duys hin is vulp skans ep el monster ed diehsit el med un seil.
In id aghyern, Alrond brigh el khortoummonster ei roy. Is roy buit surpriden ed laudit ed dienk Alrond. Ies gospoti roys, peursti, hercegs, grafs, barons ed ritters, bihr hassad ; ies hieb swohpt unte id hol noct menxu Alrond ed is vulp hieb kapen el monster ! Ed comploteer contra Alrond, bet aun dikes to.
Buit tid ios dwot preuven. Ed is royo iey :
« Peruti dahsit mi Roy Aethelstan os Damyria un vret em goldenweulos owens. Nun est tid os oiskehre i. Ir wuln est pur gold, bet dehlgo sayge od ti owi sont meg bayasen, ed taiptro hat nimen kamyapt skehre i. Quis ex vos, klewost ritters, ghehdt skehre i owens ed kwahe id golden wuln ed bringhes id mi ?
Vasyi roys, peursti, hercegs, grafs, barons ed ritters buir perplex, kam Alrond. Is gwirliey ed lohg ei vulp id royal mission. Ed is vulp iey :
« Ne moliet, Alrond mien prient. Kleu me, suaswehp honoct, ed cras gwahsiemos oiskehrtum i goldenweulos owens. »
Ye aghyern, ies prohgs ei ghesor ias princesse bikiep goldenweulos owens, bet ti owi eent meg oku, ed nequis kamyieb skehre oin schtuk ex golden wuln ud i.
Buit bad Alronds roig. Tun is vulp, eys dervo prient, sess ghom ep un cliv quer i owi eent grasend, ghensit sien flute, ed bikien. Oh, yadi yu imaginiete quod uno music id eet ! Vasyi owi comwieurg ambh iom vulp ed klur id magic music kam enchanten, ed taiper buit facil ad Alrond skehre i.
Ed ne tik i owi buir enchanten ! Id kweiter swon ios music enchantit iom roy, i cortoyers, ed quantens qui eent ter ; vasyi tieyc ed kluster kam hayran. Widugvers gwohm ex ir torms ed tens kay klues id daumost music ios vulp. Is lion, is roy vasyen biesten, ne durs baube ib interrumpes id kyudost music, is wolf myohrs hules, ed is usro myohrs mugihes.
Hatta veut Greta, qua gwivt in Brehg-in-ia-Grovs ed est maschour ob sien khak pinseing (ia khact ses con alters unte oino minute aun rughate), hatta iaswo veut Greta exgwohm ed kluster id music. Id melodia is vulp dugh ex sien flute transformit hol do un temple os music.
Is Roy trohs ob Alrond hiebit parkwohrt id dwoto task ed double-ye trohs ob kleustervs un talg magic music. Is sincere-ye dienk Alrond ed iom vulp, ed ies gospoti roys, peursti, hercegs, grafs, barons ed ritters quasi sprohng ob hassadia ed grassab. Ed oin ex i, Roy Gerneb os Lothirod, iey :
« Sei so ritter tehrt id trit preuven, is habsiet iam princesse, ed linkwsiemos nemizdt eti deshonoret, ed un pauper soldat sessiet hoger quem nos, cronen caps ! Embeuscsiemos iom cras aghyern pre id trit ordeil ed neicsiemos iom, ed it niems kwehnde disgrace. »
Quanti decis kwehre it. Bet ies ne wois od is vulp stahsit apter id cortin ye tod tid ed klu hol. Is gwirliey ed lohg ad Alrond ia insidieus plans iom gospotis.
« Quod dehlcsiem tun kwehre ? » iey is yuwen.
« Treus me, » jawieb is vulp, « yed mehm od cras dehlcsiemos bo marloubihes nies peinds ed kamyabe id senst preuven ! »
Buit id tid ios trit ed final preuven. Ed is royo iey :
« Volo ke mien futur gianter catert pro me un sumptueus dinner in sien wi castell, ed eys reception dehlcsiet ses royal ! Niem tyehgve mien dugter pro un taskar. »
Gospoti roys, peursti, hercegs, grafs, barons ed ritters buir alarmet. Weidwos, ies hieb schungjin palats ed castells in ira regions – bet est impossible duce un roy tetro unte oino dien, ni bringhes ta palats ed castells do Adtiarn, kamkwe kaurd biht wohrct ! Lakin, ies quar richest roys stiejer centen muraren ed wohl iens construge castells prokwem id nagor sammel – bet est impossible struge un castell unte oino dien ! Alrond iscchi kwohk yui, bet is vulpo pritip iom ed iey :
« Gwahsiem tib obtene un castell pro id fest ios roy, ed sei vahs vene, man apo gospotis ! »
Ed is vulp curs kye Cromorgan Castell. Ed dehlgo sayge od tod castell eet aygwn ab un terrible, khiter, ignoble, cruel troll. Maungi mussafers qui gwahr pri Cromorgan Castell ens in ia dents tos biaurios troll. Yed is troll praess menscens ed ne vulps, schowi nies tekhnassav prient hieb neid baytu ; eti, is troll ne eet hemi ye tod saat – is hieb exgwahn saysum.
Quantenprest, is vulp decis abdehe iens slougs ios troll quoy guardeer id castell ; toy eent gnoll Graw, goblin Grow ed gremlin Grahahm. Is curs kyid dwor ed cricit :
« Alarme ! Skapte ! Her gwehmt is roy con sien armee ed bringh' con se cent brukhs : vahnt keraune vos med blixa ! »
Ies slougs ios troll buir alarmet. Quod dohlg ies kwehre ? Ed is vulp sieyg ibs :
« Teupte oku ; kad is roy ed eys armee ed brukhs nient kaue vos ! »
Ies slougs ios troll eent couard, itak ies likw ir wakhtwalsa aun kunges. Is gnoll Graw tup do un birweuder, is goblin Grow do un vinbutt ed is gremlin Grahaham do un calvadosbutt (is troll meg-ye kiem calvados)
Dind nies vulp zaghyien vasya, rollit ia ex id duivar ed xubh ia do id khandak – ke flottent ter !
Entrim, is khiter troll, is demspoti, gwirliey ed buit destull surpris ob eysi slougs hieb disprohpen ed ob un stragno vulpo hiebit prohpen netos in sien wi castell. Bet nies vulp eet un extreme-ye curtese gentleman, itak ei ne molicit charmnes iom troll.
Woidend is troll meg-ye kiem flatterie, is vulp inkiep describe bikull vasya merits ios troll ed eys maschouria in vasya rigs perambh.
Ed dehlgo sayge od so troll hieb dwo caps, ed ia chid ops con mutu. Ed eno kwohr is vulp – is dayim dahsit stets plus flatterant compliments ad uter au alter cap hina vichideer tant quem levereer un katel boi ad mutu.
Dins is vulpo mliak-ye rep kye quer is troll hieb sien skarpa vrongh sabers, kam qua mucamells neude in id desert kay wighes, ed med un handugo cutto zanchouit bo cheidant caps ios khiter troll. Ed tuntos hat nimen aiwo kapt ni xohnto mussafers todih !
Entrim, Roy Taravon sieydh con sien cortoyers, cheldar, ed gospoti roys, peurstens, hercegs, grafs, barons ed ritters quoy, kam yu mehmte, comploteer kay nices Alrond. Aptersaydend i kervs, Alrondo tolikw apo id hol cheldar ed wohs mon, ed tun ies gospotis inkiepeer persehkwe iom. Ir einsa buir exkardkascht, ir nows charget, ed to habiet esen id fin ios yuwen sei is ne habiet haben sien vulp !
Ed is vulp, bifanghus id schungjin castell ios vilain troll ed poreuncus prepare un druv royal dapan ter, spohd do id forest quer id saydo tyohc.
Ye tod tid eet uno meg veut, gerger brigv in id forest. Tun, quan ies peinds persohkw Alrond ed oistrohl med ir nows protie iom, is vulp (qui eet uno magic vulp) bragv-ye transformit sien priento do un vulpskeip ed kohl iom do un torm, ed isswo vulp mutawierdh do un yuwen, just kam Alrond, tem quem khiek bihe enderkwit inter iens !
Ies gospoti roys, peursti, hercegs, grafs, barons, ed ritters apterrusch iom, ed is vulp in forme os Alrond klieup kata sien ekw ed curs tiel ocolo id veut brigv.
Ies gospotis, mehnend ir victim eet ye iro prayghest, rusch kyom per id gerger brigv, ed id brigvo collapsit, it nohc vasyi.
Entrim, is roy eet hungric ed intizier id dinner. Is vulp revers Alrond do eys menscforme ed seswo do sien vulpforme, ed ies gwohm tsay kyom roy.
« Vies Majestat, » iey is vulp curtese-ye, Sire Alrond hat id honor os invite vos ad dinner in sien castell. »
Is roy buit surpriden. « Quosmed tar, Alrond ? Id castell tiens pater staht ye dec reiddiens hetos, ed bayght tien ater brater per rect os ordination. »
« Sigwro vos, Vies Majestat, » spohd is vulp ad sayge, « od Sir Alrond hat un castell, ed uno meg schungjin. »
Ed is vulp duxit Alrond, iom roy, ed id hol cheldar ios roy do id castell os Cromorgan quod hieb xiawngja bayghen iom khiter troll, ed bieygh taiper iom prient ios vulp, ritter Alrond.
Quan i niek id castell, is roy pohld med joy, ar Cromorgan Castell eet tem gohd quem un royal palat, ed id reception quod is vulp ed Alrond schohnk ei roy ed eysi cheldar ter buit druve-ye royal. Is roy buit meg charmen, ed unte id sam dinner mohld ia sponsalia os Alrond ed ias princesse, ed taukilit Alrond ka hered sieni thron.
Quod de iom magic vulp ? Ed is vulp, quan id wehden buit khatem, sriens ed todrahsit do id forest ; fin-ye, is dar eet un wild animal, quayque serter is yando faungmoenit sien prient.
To est hol, mien prients ! Alrond ne spier id sensto ject is hiebit pro iom vulp, yed vibihsit roy.
---
Versions of Alrond and the magic fox
---
Fables About Animals | Alrond and the Magic Fox | The Second Wish
[top]
---

Why not share this page:

If you like this site and find it useful, you can support it by making a donation via PayPal or Patreon, or by contributing in other ways. Omniglot is how I make my living.
Note: all links on this site to Amazon.com
, Amazon.co.uk
and Amazon.fr
are affiliate links. This means I earn a commission if you click on any of them and buy something. So by clicking on these links you can help to support this site.
If you're looking for home or car insurance in the UK, why not try Policy Expert?
[top]