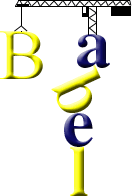 The Tower of Babel (Genesis 11: 1-9)
Lokono (Arawak)
Ororo ajeagoci namakwa kamuni goba abaro arerokoho, abaro ajiahu.
Kenbena, ausa nan ka adaili afitikidin warea, eragitu ororo isibo n'auciga goba Shinar ororo mun; yumun kiana kasikwa goba ie.
Kena abarli ajiaga l'oioci omun, Mahara bate, brick w'amurretinci, adentin ibitini n, main. Brick kiana n'amuni goba siba bia, pesi bajia cipito-koto-kwonahu bia.
N'ajia goba kiana, Mahara hate, bawhu-yuho w'amurretinci, aiomuntu-wabu bawhu bajia, anda-situ isii aiomun bonnan; w'aucigin bia irihi wamun wa; mataba-kotonwa wan bia tomakwa ororo ajeagoji man, na namuni kwawa.
Adaieli atokoda gobate kiana adeka ibici bawhu-yuho, aiomuntu-wabu bawhu bajia, lokono sanoci amurretisia.
Adaieli ajia goba kiana, Abaro ikirikia lokono robuin, abaro ajiahu kamunci; nai'inataga onyin toho; kena tanahu warea n'onyihitisia koro ikiado fa naurea.
W'atokodali kiana w'abatin bia n'ajian naurea kwawa, makonnabon nan bia n'ajian namuni kwawa, la Adaieli ajian.
Ki jia la kiana Adaieli ataba koton e kiani warea tomakwa ororo ajeagoji man; n'aiiba kiana bawhu-yuho n'amurretisia miibidin naia n.
Kia iri kiana Babel na asan, yumuni ki Adaieli abatin namakwa ororo ajeagoci ajian odoma, kiani warea ki Adaieli ataba-kota goba ie tomakwa ororo ajeagoji man.
Source: Adaieli Wacinaci Okonomuntu Ajiahu. Genesis Ibena: Bibici Sabetu Ajiahu Jesus Christ W'adaien Okonomuntu: Apostleno Onyisia Okonomuntu Ajiahu Bajia. London, 1856.
Contributed by Wolfgang Kuhl
Arawak is a Maipurean language spoken in the Dominican Republic, Suriname, French Guiana, Guyana and Venezuela by about 2,500 people.
More information about Arawak
http://en.wikipedia.org/wiki/Arawak_language
http://www.ethnologue.org/language/arw
Tower of Babel in Arawakan languages
Arawak, Ashéninka, Garifuna, Machiguenga, Nanti, Wayuu, Yucuna
Other Tower of Babel translations
By language | By language family