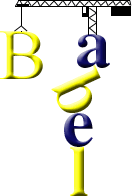 The Tower of Babel (Genesis 11: 1-9)
Bunun
Babelun Lumah
Habas isia tastu dalah chin hai kaz maitasa halinga, ispalinanutu mas bunun hai kaz maitasa tu halinga.
Naia masa isainang sia insumas vali tu dalah mulushulushu hai taunasia naia Babelunia bukzav, at tausainchia.
Naia hai mapatupa tu: "Minsuma, machiskun kata kauni mas tukaz, pihaiklasunta matunu." At maku'uni naia mas tukaz kauni, kunias laching mahahatul mas tukaz.
Tupa naia tu: "Bainahai! machiskun kata kauni mas tasa tu asang, isia asang chia hai asa tu aizan mas sausia dihanin kaihuhuan tu lumah, at namahtu ispitaishang mas imita tu ngan, nanin kata vasvasun sia tastu dalah chin."
Chis maupa chia, Iehuba hai kunastu chin, nasadu mas itu bunun chin kai'unian tu asang mas lumah.
Tupa saia tu: "Naia hai muskun min tasa tu siduh, makutasa tu halinga palinanutu; sain hai kazang kinitngaban, mais habasin hai nakazin naia makan'anak'anak hangsia kuzakuza.
Bainahai! kunastu kata mapinhasuhasu inaichia tu halinga, at naia hai nanin mapithal tu tukukua."
Naia hai tuza tu vasvasun mas Iehuba maupun sia tastu dalah; naia hai mapachis'u kauni mas asang chia.
Chis maupa chia sain tu asang hai pachinganan tu Babelun;* aupa Iehuba hai isainchia mapinhasuhasu mas itu bunun tu halinga, mavasvas naichia mapunsia tastu dalah.
*"Babelun" mas malas'uni Hebulu tu halinga hai mungap maszang mas "mapinhasuhasu".
Source: Tama Dihanin Tu Halinga. The Bunun Bible in Today's Bunun Version. The Bible Society in the R.O.C., Taipei, Taiwan, 2000.
Contributed by Wolfgang Kuhl
Bunun is a Formosan language spoken in central and northern Taiwan by about 38,000 people.
Tower of Babel in Formosan languages
Other Tower of Babel translations
By language | By language family