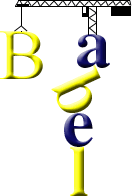 The Tower of Babel (Genesis 11: 1-9)
Guanano / Wanano (Piratapuyo)
Jipihtina masa cū̵ dʉsero durucuinare payʉ dʉserire duruchuchu yoaha
Wahmanopʉre jipihtina masa cū̵ dʉsero durucuina jia tiha. Ã jia payʉ tina Sinar wama tiri yahpai jia niha. Ti yahpai jia õ sehe nija ti basi:
- Pjiri maca dahrejihna mari. Ã yoana mʉari wʉhʉre mʉanopʉ sʉri wʉhʉre dahrejihna. Mari ã yoachʉ ñʉa paina masa marire masiahca. Ã jina wiho jiina jisi mari. Mari ã ina ahri yahpapʉ waha sitesi mari, niha tina ti basi.
à ni tuhsʉ ti macare, mʉari wʉhʉ cʉhʉre dahre dʉcaha. Ti ã dahrechʉ ñʉno Cohamacʉ tinare ñʉ jicoaeraha. à jiro jipihtina masare soro durucuchʉ yoaha. à jiro cū̵ curua soro durucu, pa curua soro durucu, payʉ dʉserire durucuhʉ yoaha Cohamacʉ masare. To ã yoachʉ masa widia soro durucuina waha, tina waha sitea wahaha ahri yahpapʉ. Ti yoamari maca Babe wama tiha.
Source: Panopᵾ Cohamacᵾ Yare Yahu Mᵾhtari Tju. Resumen en guanano de pasajes selectos del Antiguo Testamento. Wycliffe Bible Translators, Inc., 2014.
Contributed by Wolfgang Kuhl
Guanano, or Wanano, is a Tucanoan language spoken in the northwest part of Amazonas in Brazil and in Vaupés in Colombia.
More information about Guanano
http://en.wikipedia.org/wiki/Wanano_language
https://www.ethnologue.com/language/gvc/
Tower of Babel in Tucanoan languages
Cubeo, Desano, Guanano / Wanano, Koreguaje, Orejón
Other Tower of Babel translations
By language | By language family