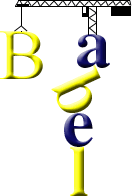 The Tower of Babel (Genesis 11: 1-9)
Khiamniungan
Babilon Tsamthong
Aya naito goumchi apemai ngio tsak naiuso ngioyak tsaklu kankeikü noiküla.
Naiuso ngüso ajepekai tsakeikü khunai, ngüso Babilon goumchi ai tsamei tsak shisao küta nungko kihlo.
Ngüso si ngüso chitekü ngiom, "Ashikam! samüh pujah nou sai küta in nai thasiakü juokü jekko." Nungtiphe ngüsoüh pujahlung nou tsamlaao lo, nung jei-ekü noiao thaiutha tsanlep nou aikü lepshi.
Ngüsoüh ngiom, "Lo samüh noknio tsak tsamthong tsak hakü maou sungyapkü lashanko, sam goumchi apemai tsüpeng lükhunao naiuso sam thaiutha nian tsak shantaiuko."
Nungaih Apaou nou nung khaiunia nousoüh noknio nouko hakü tsamthong lashantsün tü thapluao saom,
küta apaüh ngiom, "Loto, nungso khaiunia tsaklu naiuso ngüsoüh ngio tsaklu chiteji; ngüsoüh ti chhilükhunao noin nung thaiutha nungto ayachulu noin. Loto shakta ngüsoüh aiutsün alum ngüsoüh chhilükhunao shiowan-e!
Sam saoko, küta ngüso ngio lao-ekü pülai-iko nungaito ngüso tsaksitsak tsüngela- ekü noi-e."
Nungtiphe Apaou nou ngüso apem goumchi apemai pengkü khu-i, naiuso ngüsoüh noknio shantsün chhisiya laowan.
Nung noknio Babilon noin, tiautenai Apaou nou khaiunia apem ngio lao-ekü püloi-i, küta nungko ainou apaüh goumchi apemai pengpuni.
Source: Asio Thsamlai. The Bible in Khiamniungan Naga. Bible Society of India, 2005.
Contributed by Wolfgang Kuhl
Khiamniungan is a member of the Brahmaputran branch of the Sino-Tibetan language family spoken in Nagaland in northeast India, and in northwestern Burma (Myanmar).
More information about Khiamniungan
http://en.wikipedia.org/wiki/Khiamniungan_language
http://www.ethnologue.com/language/kix
Khiamniungan numbers | Tower of Babel in Khiamniungan
Tower of Babel in Brahmaputran languages
Khiamniungan, Kokborok, Tangsa
Other Tower of Babel translations
By language | By language family