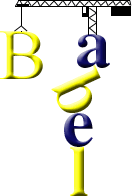 The Tower of Babel (Genesis 11: 1-9)
한국어 (Korean)
온 땅의 구음이 하나이요 언어가 하나이었더라
이에 그들이 동방으로 옮기다가 시날 평지를 만나 거기 거하고
서로 말하되 '자, 벽돌을 만들어 견고히 굽자' 하고 이에 벽돌로 돌을 대신하며 역청으로 진흙을 대신하고
또 말하되 '자, 성과 대를 쌓아 대 꼭대기를 하늘에 닿게 하여 우리 이름을 내고 온 지면에 흩어짐을 면하자' 하였더니
여호와께서 인생들의 쌓는 성과 대를 보시려고 강림하셨더라
여호와께서 가라사대 이 무리가 한 족속이요, 언어도 하나이므로 이같이 시작하였으니 이후로는 그 경영하는 일을 금지할 수 없으리로다
자, 우리가 내려가서 거기서 그들의 언어를 혼잡케 하여 그들로 서로 알아듣지 못하게 하자 하시고
여호와께서 거기서 그들을 온 지면에 흩으신 고로 그들이 성 쌓기를 그쳤더라
그러므로 그 이름을 바벨이라 하니 이는 여호와께서 거기서 온 땅의 언어를 혼잡케 하셨음이라 여호와께서 거기서 그들을 온 지면에 흩으셨더라
Transliteration
On ttangui gu'eumi hanaiyo eoneoga hanai'eotdeora.
Ie geudeuli tongbangeuro omgidaga shinal pyeongjireul manna gagi geohago.
Seoro malhadwi ''Ja, byeokdoreul mandeureo kyeongohi gumja'' hago ie byeokdoro doreul daeshin hamyeo yeokcheongeuro jinheugeul daeshinhago.
Tto malhadwi ''Ja, seonggwa daereul ssaha dae kkogdaegireul haneule dage hayeo uri ireumeul naego on jimyeone heuteochimeul myeonhaja'' hayeotdeoni.
Yeohowakkeseo insaengdeului ssaneun seonggwa daereul boshiryeogo gangrimhasyeotdeora.
Yeohowakkeseo garasadae i muriga han joksokiyo, eoneodo hanaimeuro ikeoti shijeokhayeosseuni ihuroneun geu gyeongyeonghaneun ireul geumjihal su eomseuriroda.
Ja, uriga naeryeogaseo geogiseo geudeului eoneoreul honjamke hayeo geudeulru seoro aradeunji mothage hashi go.
Yeohowakkeseo geogiseo geudeureul on jimyeone hoteushin goro geudeuli seong ssakireul geuchyeotdeora.
Deureomeuro geu ireumeul Baberira hani ineun yeohowakkeseo geogiseo on ttangui eoneoreul honjamke hasyeosseumira yeohowakkeseo geogiseo geudeureul on jimyeone heuteusyeottdeora.
You can also see the above text as an image if it doesn't display correctly in your browser.
Another version of this text
온 세상이 한 가지 말을 쓰고 있었다. 물론 낱말도 같았다.
사들은 쪽에서 옮아 오다가 시날 지방 한 들판에 이르러 거기 자리를 잡고는
논하였. '어서 벽돌을 빚어 불에 단단히 구워 내자.' 이리하여 사람들은 돌 대신에 벽돌을 쓰고, 흙 대신에 역청을 쓰게 되었다.
또 사람들은 의논하였다. '어서 도시를 세우고 그 가운데 꼭대기가 하늘에 닿게 탑을 쌓아 우리 이름을 날려 사방으로 흩어지지 않도록 하자.'
야훼께서 땅에 내려 오시어 사람들이 이렇게 세운 도시와 탑을 보시고
생각하셨다. '사람들이 한 종족이라 말이 같아서 안 되겠구나. 이것은 사람들이 하려는 일의 시작에 지나지 않겠지. 앞으로 하려고만 하면 못할 일이 없겠구나.
당장 땅에 내려 가서 사람들이 쓰는 말을 뒤섞어 놓아 서로 알아 듣지 못하게 해야겠다.'
야훼께서는 사람들을 거기에서 온 땅으로 흩으셨다. 그리하여 사람들은 도시를 세우던 일을 그만 두었다.
야훼께서 온 세상의 말을 거기에서 뒤섞어 놓아 사람들을 온 땅으로 흩으셨다고 해서 그 도시의 이름을 바벨이라고 불렀다.
Transliteration
on sesang-i han gaji mareul sseugo isseossda. mullon nanmaldo gatatda.
saramdeureun dogjjogeseo olma odaga sinal jibang han deulpane ireureo geogi jarireul japgoneun
uinonhayeossda. 'eoseo byeokdoreul bijeo bure dandanhi guweo naeja.' irihayeo saramdeureun dol daesine byeokdoreul sseugo, heulg daesine yeokcheong-eul sseuge doeeossda.
ddo saradeureun uinonhayeossda. 'eoseo dosireul se-ugo geu gaunde ggokdaegiga haneure dahge tabeul ssaha uri ireumeul nallyeo sabang-euro heuteojiji anhtorok haja.'
yahweh-ggseo ddang-e naeryeo osieo saramdeuri ireohge se-un dosiwa tabeul bosigo
saenggakaseossda. 'saramdeuri han jongjogira mari gataseo an doegessguna. igeoseun saramdeuri haryeoneun irui sijage jinaji anhgessji. apeuro haryeogoman hamyeon mothal iri eobgessguna.
dangjang ddang-e naeryeo gaseo saramdeuri sseuneun mareul dwiseoggeo noha seoro ara deudji mothage haeyagessda.'
yahweh-ggeseoneun saramdeureul geogieseo on ddang-euro heuteusyeossda. geurihayeo saramdeureun dosireul se-udeon ireul geuman dueossda.
yahweh-ggeseo on sesang-ui mareul geogi-eso dwiseoggeo noha saramdeureul on ddang-euro heuteusyeossdago haeseo geu dosi-ui ireumeul Babel-irago bulleossda.
Information about Korean | Korean phrases | Korean numbers | Korean colours | Tower of Babel in Korean | Korean learning materials | Korean links
Other Tower of Babel translations
By language | By language family