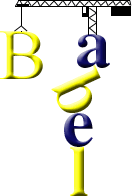 The Tower of Babel (Genesis 11: 1-9)
Sangtam (Thukumi / Lophomi)
Babel Rangrangkuh
Adikeh la lihküp la nyitsarü atümungnü yu khüdu du müjang chocho.
Ko arüh nyüchürolang rümchi wüde, arühnü Babylon lih la Shinar ngah ngucho ko hütsüla licho.
Ko arüh-e arüh-rü chota yocho, "Rung! Ihsanü alihnü lihtah lung külüpnung." Hütsüta arühnü lung mülih lihtah lung ko arüh münakehtasohnung aji bichicho.
Hütsüpü arühnü yocho, "Ihsanü Ihsa neng yohpünung, ko limih jeng müshupishuzanung nengdang yangdi khüdu külüp rangrangkuh khüdu ning chii thsanung."
Ta Abüdongbanü arühnü külüp yaba yangdi ko rangrangkuh dhengnung jürocho.
Ko Abinü yocho, "Ade hiri nyitsarü khüdu ko yu khüdu du chole; ko hi arühnü lümcho nguchinung adikehrüe. Tunyah mülipü arühnü arüh nguchinyücho nguchichehnung.
Ihsanü jowonung ko arüh-e arührü yu münyichehtasohnung arüh yu charütajünung."
Hütsüta Abüdongbanü limih jeng arüh tsishosohcho, ko yangdi külüpba tsü nyehlicho.
Hiba yangdi te Babylon pü dsicho, tunüo hütsüla Abüdongbanü nyitsarü yu charütajücho ko hütsü lanü Abinü arüh limih jeng tsishosohcho.
Source: Lipoh (Genesis). Amüsa Baibel. The Bible in Sangtam Naga. Bible Society of India, 1995.
Contributed by Wolfgang Kuhl
Sangtam is a member of the Ao branch of the Sino-Tibetan language family spoken in west-central Nagaland in northeastern India.
More information about Sangtam (Naga)
http://en.wikipedia.org/wiki/Sangtam_language
http://www.ethnologue.com/language/nsa
Tower of Babel in Ao languages
Ao Naga, Lotha, Sangtam, Yimchungrü
Other Tower of Babel translations
By language | By language family