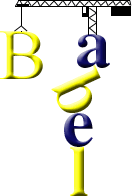 The Tower of Babel (Genesis 11: 1-9)
Ao Naga
Alima ajak, nung oshi ka aser o ka liasü.
Aser parnoki anüdokleni senzüa aodang., parnoki Shinar lima nung lenten ka angu, aser parnoki yangji ali.
Aser parnok o parnok na jembitepa ashi, Arung, asenoki lungru tepa jungjunga rudi. Aser parnoki lung melen lungru agi, aser lishi melen parnoki süngnaktsü agi.
Aser parnoki ashi, Arung, asenok alima ajak nung prokshia lir, asenoki asen asoshi yimti ka, aser anüng tashi atongba lungki ka yangludi, aser asenoki asen asoshi tenüng ka yangludi.
Aser KIBUBAI nisung chirtemi yangluba yimti aser lungki reprangtsü alu.
Aser KIBUBAI ashi, Ajiang, parnok kin ka, aser parnok ajak o ka dang lir; aser parnoki mapa ya tenzüker: aser tang parnoki kechi inyaktsü mulunger, parnok dak nungi kecha metitemtsütsü.
Arung, asenoki ludi, aser idakji parnoki, nisung o nisung na o jembiba mangatettsüsa, parnok o benjatsüdi.
Aser KIBUBAI parnok idak nungji alijak nung ayimsünga yok, aser parnoki yimti yangluba anena adok.
Anungji iba tenung Babel ta aja, kechiaser KIBUBAI idakji meimchir ajak benjatsu aser idak nung KIBUBAI parnok alijak nung ayimsünga yok.
Source: Temeshi Lai. Tejen Aser Tasen Lai Tena. The Holy Bible in Ao Naga. India Nung Laishiba Telok. The Bible Society of India, Bangalore, 1980.
Contributed by Wolfgang Kuhl
Ao Naga is a member of the Ao branch of the Sino-Tibetan language family spoken in Nagaland in the north east of India by about 232,000 people.
More information about Ao Naga
http://www.ethnologue.com/language/njo
Numbers in Ao Naga | Tower of Babel Ao Naga
Tower of Babel in Ao languages
Ao Naga, Lotha, Sangtam, Yimchungrü
Other Tower of Babel translations
By language | By language family