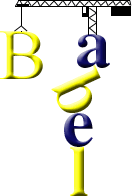 Tower of Babel (Genesis 11: 1-9)
Rif Tamazight (Tarafit / Tamaziġt Tarifit)
Ṣṣumɛet n Babil
Tuɣa marra tamurt s iřes d ijjen u s řḥarḍ d ijjen.
U imsar rami dd-ffɣen zi ccarq, ufin ij n řewḍa di tmurt n Cinɛar uca qqimen zeddɣen dinni.
Uca qqaren, kuř ijj i wenneḍni "Araḥem-dd, ad negg iẓra, ad ten nesseḥma!" Ammu idweř aẓru d aẓru n ř ebni d tizeft d řbeɣri.
Xenni qqaren "Zid, ad nebna ict n tendint d ict n ṣṣumɛet, taqeccat nnes ad dd-taweḍ ɣar ujenna u jjem ad aneɣ negg ij n isem, ḥima war nettemsebḍi ca x wudem n marra tamurt."
Xenni ihwa-dd SIDI ḥima ad iẓar tandint d ṣṣumɛet tenni ibnan tarwa n bnadem.
Iqqar SIDI "Xẓar, aqqa-ten d aydud d ijjen u marra ina ɣarsen ijj n iřes. Wa d beddu n min i ɣa ggen. Řexxu war din min i ɣa ibedden deg webrid nsen min nwan ad t ggen.
Araḥem-dd, ad nehwa uca ad nxarweḍ iřes nsen, ḥima kuř ijjen war ifehhem ɛad iřes n inni t yudsen."
Ammu i ten ibezzeɛ SIDI ssenni x wudem n marra tamurt uca ssbedden řebni n tendint.
Ammu i d as řaɣan s isem n 'Babil', minzi din ixarweḍ SIDI iřes n marra tamurt u ssenni ten ibezzaɛ SIDI x wudem n marra tamurt.
Source: Amezwaru (Genesis) in Tarifit (Latin script), 2011.
Tamazight script version

Contributed by Wolfgang Kuhl
Riff Tamazight, which is also known as Riffian, Riff(ian) Berber, Tarafit or Tamaziġt Tarifit, is a variety of Berber spoken in Morocco, especially in the Rif provinces.
More information about Rif Tamazight
http://en.wikipedia.org/wiki/Tarifit
http://www.ethnologue.com/language/rif
Tower of Babel in Berber languages
Other Tower of Babel translations
By language | By language family