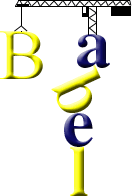 The Tower of Babel (Genesis 11: 1-9)
Faka-Tonga (Tongan)
Ang tore sa Babel
Pea na'e ngutu taha pe 'a e fonua kotoa, mo lea taha.
Pea 'i he faifai pea nau fononga mei hahake, pea nau 'ilo ha toafa 'i he fonua ko
Saina; 'o nau nofo ai. Pea nau fepehe'aki; 'E, tau ngaohi maka'umea mu'a, 'o matu'aki ta'o ke moho. Pea nau maka 'aki 'a e maka'umea, mo nau lahe 'aki 'a e
kelepulu. Pea nau pehe, 'E, tau langa mu'a ha'atau kolo, mo ha taua ke tau ki langi, pea tau 'ai ke 'iloa hotau hingoa, na'a tau movete
'i he funga 'o mamani. Pea ha'ele hifo 'a Sihova ke 'afio'i 'a e kolo mo e taua na'e langa 'e he ha'a
Atama. Pea folofola 'a Sihova, Vakai, ko e kakai pe taha kinautolu, pea lea taha; pea ko 'enau kamata pe ē; pea ka hili 'eni tala'ehai 'e mata'ofi kinautolu mei ha me'a ange te nau fakakaukau ke
fai. 'E, tau ō hifo mu'a, 'o veuveuki 'enau lea ke 'oua te nau
fe'iloaki lea. Pea na'e veteki kinautolu 'e Sihova mei he potu ko ia ke nofo'i 'a e fonua kotoa: pea na'a
nau tuku 'a e langa 'o e kolo. Ko hono 'uhinga ia na'e fakahingoa ai ia ko Pepeli (ko Maveuveu); koe'uhi ko e potu ia na'e veuveuki ai 'e Sihova 'a e lea 'a mamani, pea ko e potu ia na'e vetekina mei ai 'a e kakai 'e Sihova ke nofo'i 'a e fonua kotoa.
Source: Ko E Tohitapu Katoa. The Bible in Tongan. The Bible Society in the South Pacific, Raiwaqa, Suva, Fiji, 1979.
Contributed by Wolfgang Kuhl
Information about Tongan | Useful phrases in Tongan | Tower of Babel in Tongan
Tower of Babel in Polynesian languages
Futunan, Kapingamarangi, Hawaiian, Māori, Niuean, Rarotongan, Sakao, Samoan, Tahitian, Tongan, Tuvaluan
Other Tower of Babel translations
By language | By language family