Alkniktsɯi
Alkniktsɯi was invented by Moryun Lee (이모륜) in 2010 for his conlang, Alkneslyutan. Alkneslyutan is also the official language of Alkneslyut, a fictional country. The alphabet was modelled on the Latin, Hebrew, Hangul and Katakana scripts.
Notable features
Type of writing system: alphabet
Direction of writing: left to right in horizontal lines
Used to write: Alkneslyutan
There are five letters to write final consonant
The notation of diphthong in Alkniktsɯi seems like an exponentiation in mathematics. The place for base is the equivalent of beginning sound, and exponent is ending sound.
Alkniktsɯi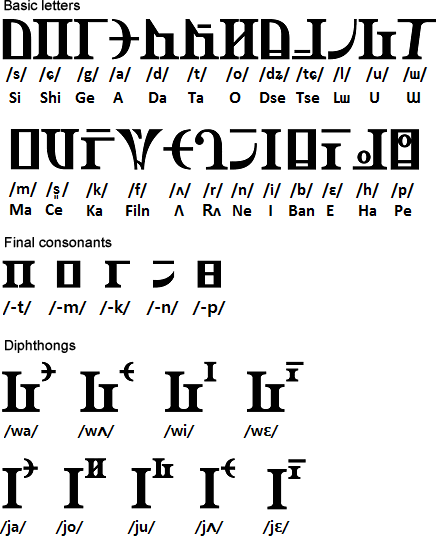 Sample text

Transliteration
Pro dsenosfla les fiesilia domʌnts en haintsisɯi ant intrinein. Dsenosfla isiltintidsɯn merisiansos ant klaetsisɯi en'alknesial, Ant shlielist enmaiti dents mosnitemitisɯilyut dedsenis.
Translation
All human beings are born free and equal in dignity and rights. They are endowed with reason and conscience and should act towards one another in a spirit of brotherhood.
(Article 1 of the Universal Declaration of Human Rights)
Other alphabets invented by visitors to this site