Aliaric
Aliaric (aļïǎr) is the creation of Anton Antonov, a writer of Science-Fiction from Novgorod in Russia. It is language of the planet Zindzar and the religion named Sari Ambier ("right good faith"). This script is based on the Arabic script.
Notable features
Written from left to write in horizontal lines.
Vowel symbols appear above and between the consonants
The Aliaric script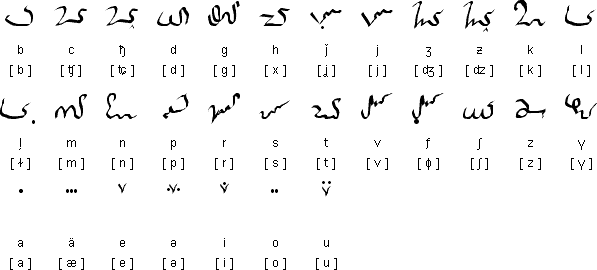 Sample text in the Aliaric script

Transliteration
tabiǎ mu jjamin alavanit dïn dǎni werem fa γasmon adda i kafur hem tafiä das. ätuni jjaĵrem betibar ïd afa taman fa targun afaterge samit ђender jjerit tabiǎ tǎru ätuni das dǎni mu kasmat.
Translation
All human beings are born free and equal in dignity and rights. They are endowed with reason and conscience and should act towards one another in a spirit of brotherhood.
(Article 1 of the Universal Declaration of Human Rights)
Download font for Aliaric (TrueType format, 12K)
Other writing systems invented by visitors to this site