Ālḵavat Yat-Vṛḵaẕīkam
The ʾĀlḵavat Yat-Vṛḵaẕīkam is an abjad that was as created by Malcolm Holborne. It is used for writing his conlang Vṛḵaẕī (Yaškik Yat-Vṛḵaẕīkam) and its descendant, Arkéan, uses a script that is derived from it.
Internal History
Not much is known about the origins of the Vṛḵaẕī script, but it considered to be one of the oldest scripts in history. The oldest form of this script was known as Valraḻam ("Nature of Death") that was created around 10,000 years ago, this script was created to be etched into stone tablets. The latest form of the Vṛḵaẕī script was used as early as 7,500 years ago and continued to be in use until around 3,000 years ago. This script was originally made for writing on paper-like materials. Documents that were written in this script were said to be official and unbreakable.
The Arkéan script, which is adapted from Vṛḵaẕī, is the script that is currently used to write Arkéan.
Notable features
Type of writing system: Abjad
Direction of Writing: left-to-right in horizontal lines or boustrephedon
Used to write: Yaškik Vṛḵaẕī
Ālḵavat Yat-Vṛḵaẕīkam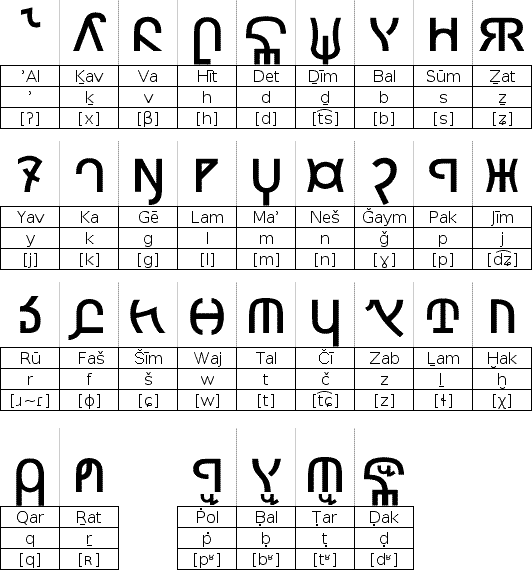 Sample text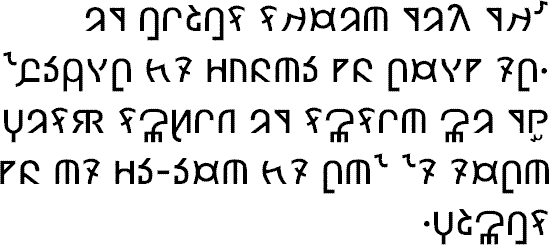 Transliteration
ʾAšol ḵaval tovnešī yahrīka lav ʾīfīraqba šī sīḫavtar lav hnūbal ya. Ṗal vīd tokyedī lav ḫakgadī ẕayvam lav tē sēr-ranat šī htaʾ ʾē yanhet yīhdaram.
Translation
All human beings are born free and equal in dignity and rights. They are endowed with reason and conscience and should act towards one another in a spirit of brotherhood
Links
Font for Ālḵavat Yat-Vṛḵaẕīkam
https://app.box.com/s/55ofbunh78ike7oxlq23
Information about Yaškik Vṛḵaẕī
http://www.frathwiki.com/YAXKK_VŘḴAẔH_ Yaškik_Vřḵaẕī
Other constructed scripts for English