Avallaen
The Avallaen alphabet is the creation of Thomas Maska (TomMaska@aol.com) and is modelled, to some extent, on the the script of the Voynich Manuscript. Thomas created the alphabet to write his conlang, also known as Avallaen.
Internal history
The alphabet is used to write Avallaen spoken by approximately 35 million people on the northern end of Escerna, a massive volcanic continent in the N'ra Teoi (Great North Sea).
Notable features
Avallaen is a fully vocalized alphabet consisting of twenty consonants, twelve vowels, four syllables, and four dipthongs.
It is written from left to right.
"C" is pronounced like "s" if it comes before "oi" or "e"
You can convert English words into Avallaen words using a complex conversion process.
Avallaen alphabet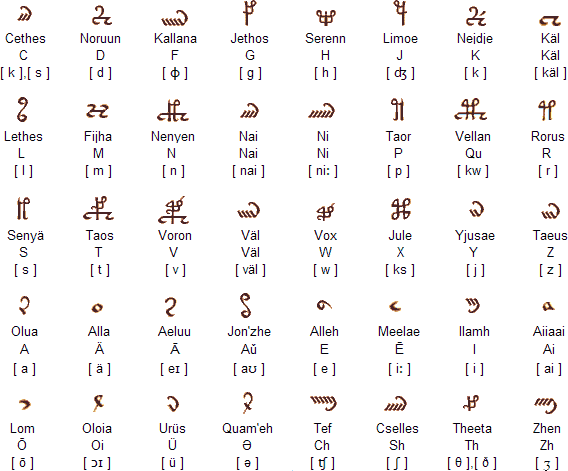 Avallaen numerals

Sample texts in Avallaen

Transliteration / Translation
Vüväloiek dü quuo / I love you

Transliteration / Translation
Vaik vaierüs cünch vaivoiväl / Life is worth enjoying
Other writing systems invented by Thomas Maska
Avallaen, Ling'amon', Olorexh, Romanabic, Scriptic II, Talisman
Other writing systems invented by visitors to this site