Cempaka
Cempaka is an alphabet created by Marcella Huang for fun, which was inspired by Braille numerals, and features the candybar phone keypad pattern. The name "Cempaka" is the Indonesian name for the Magnolia champaca, a flower native to the southern and eastern parts of Asia.
Notable Features
Type of script: alphabet
Direction of writing: left to right in horizontal lines
Used to write: any language that uses 26 letters, including English and Indonesian
Each letter is defined by

Its position on the candybar phone keypad (symbolized by modified Braille numerals). The dots in Braille numbers need to be connected to form the basic shapes of the letters.
How many times you have to click the pad on a candybar phone to get type the letter (symbolized by Roman numerals).
For example: N is located on key 6 on a candybar phone we need to connect all the dots in the Braille version of the number 6.

In order to type N on a candybar phone, we need to click pad 6 two times. That's why we write "2" in the modified Braille number's shape.
Cempaka alphabet chart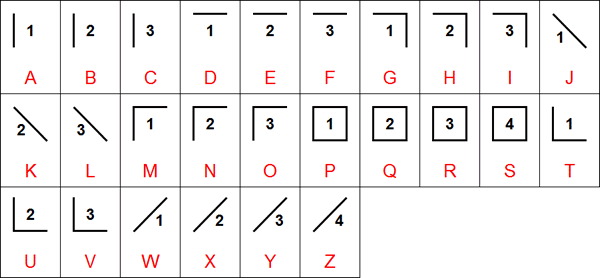 Sample text (in English)

Transliteration
All human beings are born free and equal in dignity and rights.
(Part of Article 1 of the Universal Declaration of Human Rights)
Sample text (in Indonesian)

Transliteration
Keadilan sosial bagi seluruh rakyat Indonesia.
(The fifth point of Pancasila)
If you have any questions about the Cempaka alphabet, you can contact Marcella Huang at: marchella.d7f@gmail.com