Chelyesta
Chelyesta was created by David J. Peterson in 2005 to write his conlang, Sidaan, which means "writing". It is a fairly simple alphabetic script.
Notable Features
Word-finally, the glyph for "h" is used to lengthen a vowel.
When the glyph "h" precedes a consonant, that consonant is geminated.
When the glyphs "l" and "r" are doubled, they produce [j] and [w], respectively.
There are only two punctuation marks used in Chelyesta. Words are separated by a small cross, and sentences are separated by two small crosses in succession (for an example, see below).
Chelyesta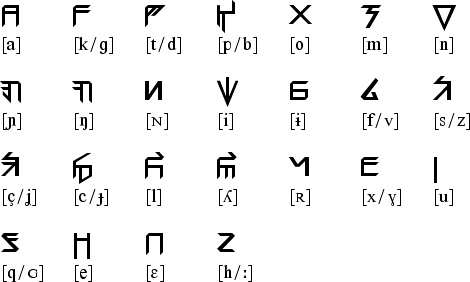 Sample text
Translation
The thin girl swam for the short boy.
Download a font for the Chelyesta alphabet (TrueType, 9K)
Link
More information about the Chelyesta alphabet and the Sidaan language
http://dedalvs.free.fr/sidaan/
If you have any questions about this alphabet, you can contact David J. Peterson at dedalvs@gmail.com
Also by David J. Peterson
Other scripts for constructed languages