Deskuffen
The Deskuffen Writing System was invented by Archie Wildsmith and used to write his constructed language Skainian, which is used in the country of Skaine. The word "Skainian" comes from its past relations of Kecrucxian and Carouxian words, but the meaning of the word is still unknown. Skainian is currently the only one to use Deskuffen, but this script has been known to write Eissdonian, Carouxian and Kecrucxian in its early development, around when it was first introduced. Deskuffen is similar to Cyrillic in that is has "soft" (а, е) and "hard" (ё, ї). vowels.
Notable features
Type of writing system: alphabet
Direction of writing: left to right in horizontal lines
Used to write: Skainian
Number of letters: 31
The letters are based on the Latin, Cyrillic and Greek alphabets
Deskuffen Script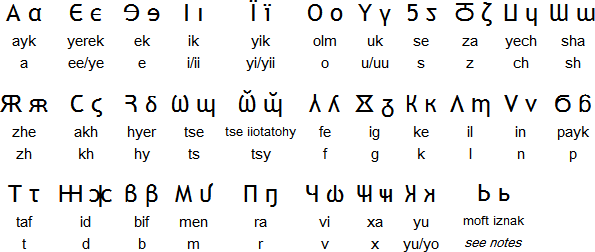 Notes
The Skainian letter 'ehy' is basically 'h' and 'y' together.
The Skainian letter 'tsa iiotatohy' is basically 'ts' in 'cats' and 'y' in 'yonder' put together.
The Skainian 'moft iznak' (shift sign) is used after some consonants to indicate it requires a shift in tongue position; move your tongue from the "normal" position and rest it on your two top front teeth.
Combinations
Skainian has a few combinations that need to be remembered. These are in alphabetical order:
aa – only kept today for historical reasons; bar
ii – only kept today for historical reasons; seed
yi and i – quick yeah; yeast and bread
oo – rare; coke
uu – only kept today for historical reasons; boom
cc – t and th in thin together;
ccy – welsh 'll' sound
With regards to punctuation, Skainian uses pretty much all of them like English.
Sample text in Deskuffen

Transliteration
Hosros nerestriktsiioniiohyut u samohyut ta sewkachnov u korgonovi. Poso hosros respektsiibo u theshkochom hosros tesimas.
Transliteration
All human beings are born free and equal in dignity and rights. They are endowed with reason and conscience and should act towards one another in a spirit of brotherhood.
(Article 1 of the Universal Declaration of Human Rights)
Download a fonts for Deskuffen (OpenType)
You can contact Archie Wildsmith at: archiewild45@live.co.uk
Other writing systems invented by visitors to this site