D'ni alphabet
The D'ni alphabet was created for use in the computer games Myst and Riven, which are produced by Cyan Inc. The D'ni alphabet is used to write D'ni, a language created for use in Myst and Riven which is spoken by a number of the characters in these games.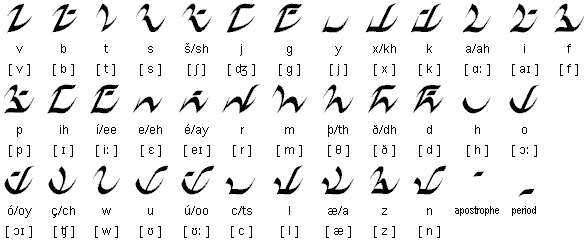 Note
Some of the transliterations and phonetic values are uncertain.
Numerals
The D'ni use a 25 base counting system. The number 25 can be written either as a single symbol or as a combination of the symbols for 1 and 0.

Sample text in D'ni

Transliteration
.lenah biv kenen tenesh erthbantee meh keelentee roob rekeelen fahets kenen ten ril-tsan
Translation
Every journey is simply a series of steps but the first step is not always simple.
Sample text provided by Jeff Klinger
Links
D'ni Guild - news and information on D'ni-related topics
http://www.cyanworlds.com/?page=dniguild
Guild of Linguists - information on the D'ni alphabet and language
http://linguists.riedl.org/old
Official Website for the Restoration of D'ni
www.drcsite.org