Gagarit Abada
The Gagarit Abada was created by Dr. Modh Zakaria Ilyas in the 1970s as an alternative way of writing his native language, Kadazandusun. It is based on the scripts used in southern India descended from the Brahmi script.
The word Gagarit comes from the word garit (to stratch, to bruise), and Abada comes from the first three letters of the Kadazandusun alphabet (a, b, d).
Notable features
Type of writing system: alphabet
Direction of writing: left to right in horizontal lines.
Used to write: Kadazandusun, a Malayo-Polynesian language spoken in the state of Sabah on Borneo in Malaysia.
Gagarit Abada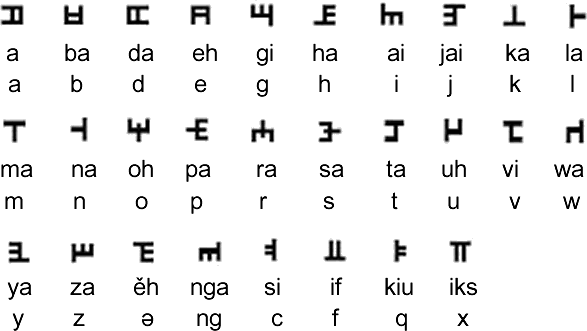 Numerals

Information compiled by Lesley Housten C Kibat
Links
Information about the Gagarit Abada
http://gagaritabada.blogspot.co.uk/2013/05/tulisan-kadazandusungagarit-abada.html
Other writing systems invented by visitors to this site