Jtaszdasoten
Jtaszdasoten is a writing system created in 2005 by 殷慈遠 (Yin Ciyuan) to write a Chinese-based conlang, also called Jtaszdasoten. Ciyuan enjoys creating languages and wanted to create one that only he could read. Originally he adapted bopomofo, then he decided to create a new writing and language.
The language he created is based on Mandarin Chinese but simplified and with four noun genders: masculine, feminine, neuter and inanimate.
殷慈遠的Jtaszdasoten簡介
這套文字是殷慈遠於2005年創造的。我很喜歡創造語言,我想試著創造一種只有我自己看的懂得語言。起初,我把注音符號(我的國家學中文時用的符號)轉換成我自己才看的懂的符號,但是後來,我認為應該創造出不依附於任何語言的文字,所以我又加了自己創造的單字和字根,便形成這一套文字。
這套文字的文法和中文很像,但是語句比中文簡短,而且比中文還要有規則,像名詞就分成 Masculine、Feminine、Neuter和Inanimate。
Jtaszdasoten script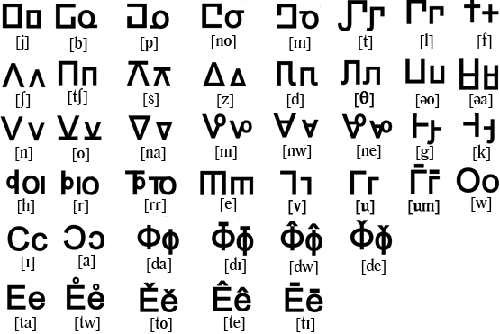 Jtaszdasoten gender indication (性別)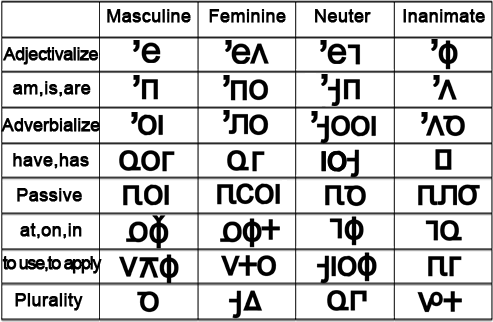 Sample text in Jtaszdasoten

Transliteration
Otwhrshida'tav vlathg, hrshji bda nsdahrsh thwvta'sh idaddwrvla. Arvbl rk brrwt bda shdbwkchfk, aows deh ewidardwi'h noidachm.
Translation
All human beings are born free and equal in dignity and rights. They are endowed with reason and conscience and should act towards one another in a spirit of brotherhood.
(Article 1 of the Universal Declaration of Human Rights)
If you have any questions about Jtaszdasoten, you can contact 殷慈遠 (Yin Ciyuan) at: yinciyuan@yahoo.com.tw
Other writing systems invented by visitors to this site