Lithuanian Cyrillic (лиетувиў калба)
The Lithuanian Cyrillic alphabet was invented by Noah Shamley. He is not the first to adapt the Cyrillic alphabet for Lithuanian: between 1864-1904 the Cyrillic alphabet was used to some extent to write Lithuanian, although very inconsistently using many diacritics. Noah's version is designed to be easier to learn for those who can already read Cyrillic.
Lithuanian Cyrillic alphabet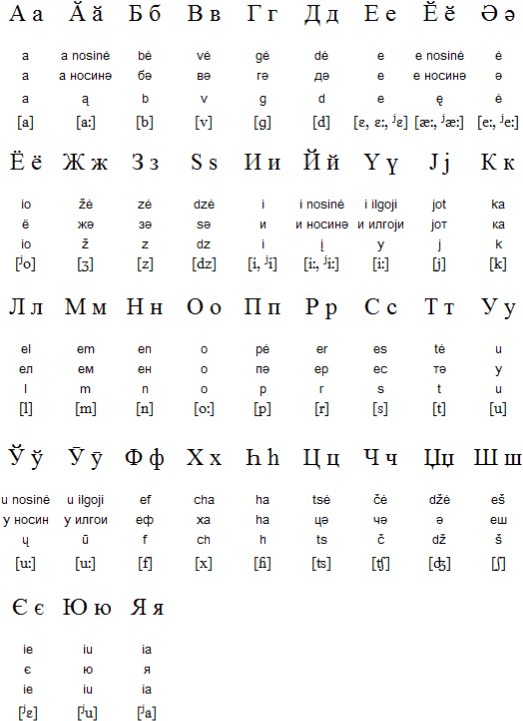 Sample text Lithuanian Cyrillic
Виси жмонәс гимста лаисви ир лүгӯс саво оруму ир теисәмис. Jємс сутеиктас протас ир сӑжинә ир јє тури елгтис вєнас кито атжвилгю каип броляи.
Standard Lithuanian version
Visi žmonės gimsta laisvi ir lygūs savo orumu ir teisėmis. Jiems suteiktas protas ir sąžinė ir jie turi elgtis vienas kito atžvilgiu kaip broliai.
Translation
All human beings are born free and equal in dignity and rights. They are endowed with reason and conscience and should act towards one another in a spirit of brotherhood.
(Article 1 of the Universal Declaration of Human Rights)
Other adaptations of alphabets
Information about the Lithuanian language