Maula (마우라)
Maula was invented by Mohd Badrul bin Salleh, a Malaysian student who is keen on adopting the writing system of classical and modern languages to write Malay. Maula consists of Korean alphabet, Hangul with the addition of Chinese characters to represent sounds that do not exist in Korean. He got this idea while studying Korean at the university and he found out that it helped him in writing and reading Korean.
Notable features
Type of writing system: alphabet
Direction of writing: right to left in vertical columns or horizontally from left to right
Used to write: Malay (also applicable for Indonesian)
Number of letters: 19 consonants, 6 vowels (one additional vowel, schwa), 12 semi-vowels, 6 special letters and 1 slidon
Maula alphabet

Sample texts in Maula
Pantun (Malay Classical Poem)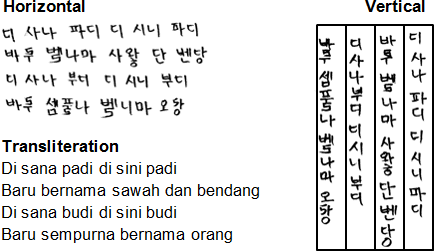 Transliteration
Di sana padi di sini padi
Baru bernama sawah dan bendang
Di sana budi di sini budi
Baru sempurna bernama orang
Article 1 of the Universal Declaration of Human Rights

Original version of this text
Semua manusia dilahirkan bebas dari segi kemuliaan dan hak-hak. Mereka mempunyai pemikiran dan perasaan hati dan hendaklah bertindak di antara satu sama lain dengan semangat persaudaraan.
Transliteration
All human beings are born free and equal in dignity and rights. They are endowed with reason and conscience and should act towards one another in a spirit of brotherhood.
(Article 1 of the Universal Declaration of Human Rights)
Other writing systems invented by visitors to this site