Triroglyphs
Triroglyphs is a alternative script for German and English devised by Hans Schülein and a friend. They invented it out of boredom, out of a need and desire to communicate secretly, and because it looked cool. It is easiest written on graph paper, where it was first constructed
Notable features
Type of writing system: alphabet
Direction of writing: left to right in vertical columns.
Used to write: German and English
Each letter has a three digit number combination in base three. The first versions were randomly assigned, but subsequent versions were ordered alphabetically.
Each word consists of a triangle, a big one for a word starting with an upper case letter, and a small one for a word starting with a lower case letter.
Each word ends with a small dot. If there is no dot the word continues in the next column.
Triroglyphs alphabet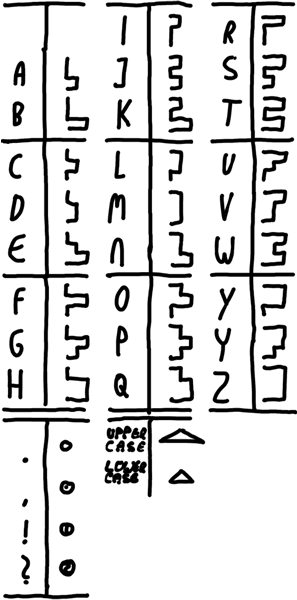 Sample text in Triroglyphs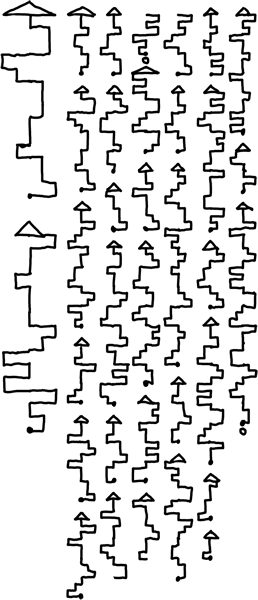 Transliteration
All human beings are born free and equal in dignity and rights. They are endowed with reason and conscience and should act towards one another in a spirit of brotherhood.
(Article 1 of the Universal Declaration of Human Rights)
Other writing systems invented by visitors to this site