Abui (Abui tanga)
Abui is member of the Alor-Pantar branch of the Timor-Alor-Pantar language family. It is spoken in Alor Island, part of East Nusa Tenggara province in eastern Indonesia by about 16,000 people (in 1981). The native name of the language, Abui tanga, means 'mountain language'.
Abui is also known as Barue, Namatalaki and Barawahing. Dialects include Atimelang, Abui Barat, Alakaman and Abui Selatan.
Abui has been documented by a number of anthropologists, sociologists and linguists since the 1930s. An Abui-Indonesian-English dictionary was published in 2008, along with a collection of stories in Abui.
The Abui orthography is based on Indonesian. Long vowels are doubled. An acute accent indicates a high tone, and a grave accent indicates a low tone.
Abui alphabet and pronunciation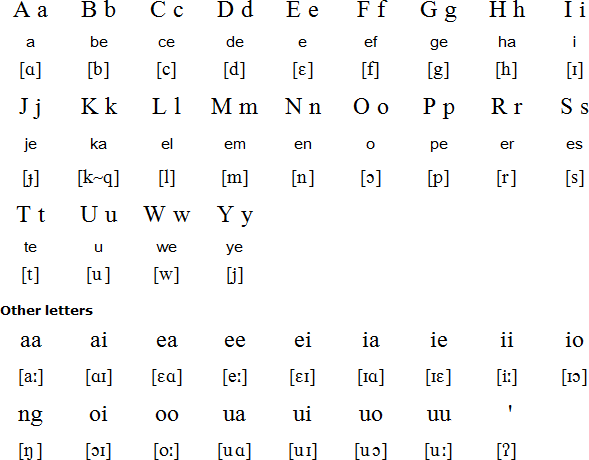 Download a Abui alphabet chart (Excel)
Sample text (Lord's Prayer)
Lahatala, maama ba melang san mia ane, hafokda haloida, ebuku hefokang sei, omi hesan hemasolang mi, nil buku taha mia do melang san, mia wida, yal war do nala ba hekang hu mi bang nile, nibeka nitafiela a heom pan he, hetawida mi ba nil ama ba beka ming nida samadi, nil mi ba beka tafielang hatàng naha ma, haba nil mi ba hekang hetaluola.
Information provided by Michael Peter Füstumum
Information about Abui | Numbers in Abui
Links
Information about Abui
https://en.wikipedia.org/wiki/Abui_language
https://www.ethnologue.com/language/abz
https://www.researchgate.net/publication/28648930_A_grammar_of_Abui_A_Papuan_language_of_Alor
http://www.language-archives.org/language/abz
Other languages written with the Latin alphabet