Index of languages by writing system
This is a list of the languages featured on Omniglot arranged by the writing systems with which they are written. This is not an exhaustive list of all the languages written with each writing system, but mainly the ones that appear on Omniglot.
The most widely used writing systems are the Latin, Cyrillic and Arabic alphabets. An index of all the languages of all the languages featured on this site is available in the language index.
Some languages have been written with a number of different writing systems over the years. For example, in Central Asia many languages were originally written with the Arabic alphabet, then switched to the Latin alphabet during the 1920s, then to the Cyrillic alphabet during the 1930s or 1940s. Some of them switched back to the Latin alphabet during the 1990s or in the early 21st century.
Writing systems used to write more than one language
Arabic | Baybayin | Bengali | Buhid | Burmese | Canadian Aboriginal Syllabics | Chinese | Cuneiform | Cyrillic | Devanagari | Ge'ez (Ethiopic) | Georgian | Gujarati | Gurmukhi | Hebrew | Kannada | Kawi | Kharosthi | Kathi | Khojki | Lao | Latin | Lontara | Malayalam | Mwangwego | N'ko | Ogham | Oriya | Phags-pa | Runic | Syriac | Sharda | Soyombo | Takri | Tibetan | Tifinagh
Writing system (mainly) used to write one language
Ahom | Akkadian Cuneiform | Ancient Berber | Ancient Egyptian Demotic | Ancient Egyptian Hieratic | Ancient Egyptian Hieroglyphic | Ancient Latin | Aramaic | Armenian | Avestan | Balinese | Bamum | Bassa (Vah) | Batak | Beitha Kukju | Blackfoot | Borama | Brahmi | Carian | Caroline Island Script | Carpathian Basin Rovas | Carrier | Caucasian Albanian | Celtiberian | Chakma | Cham | Cherokee | Chữ-nôm | Coorgi-Cox | Coptic | Cree | Cypriot | Dalecarlian Runes | Dehong Dai | Deseret | Dhives Akuru | Elbasan | Elamite | Eskayan | Etruscan | Evela Akuru | Faliscan | Fraser | Glagolitic | Gondi | Gothic | Grantha | Greek | Hanunó'o | Hiragana | Iberian | Inutitut | Javanese | Jurchen | Katakana | Kayah Li | Khazarian Rovas | Khitan | Khmer | Kirat Rai | Korean (Hangeul) | Kpelle | Lanna | Lepcha | Limbu | Linear A | Linear B | Loma | Luwian | Lycian | Lydian | Manchu | Mandaic | Manipuri | Marsiliana | Mayan | Mende | Meroïtic | Messapic | Middle Adriatic / South Picene | Middle Persian | Modi | Mongolian | Nabataean | Naskapi | Naxi | Ndjuka | New Tai Lue | North Picene | Nüshu | Oirat Clear Script | Ojibwe | Old Church Slavonic | Old Permic | Old Persian Cuneiform | Old Uyghur | Orkhon / Old Turkic | Oscan | Osmanya (Somali) | Pahawh Hmong | Pallava | Parthian | Phoenician | Phrygian | Psalter | Proto-Sinaitic / Proto-Canaanite | Punic | Ranjana | Redjang | Rongo Rongo | Sabaean | Samaritan | Santali | Shan | Siddham | Sindhi | Székely-Hungarian Rovás (Hungarian Runes) | Sinhala | Sorang Sompeng | Sourashtra | Sumerian Cuneiform | Sundanese | Syloti-Nagri | Tagbanwa | Tai Dam | Tamil | Tangut | Telugu | Thaana | Thai | Tocharian | Todhri | Tolong Siki | Tigalari | Ugaritic | Umbrian | Vai | Varang Kshiti | Yi |
If you can't find a particular writing system or language here, please look in the A-Z index or the Language index.
---

Some of these languages, such as Bosnian and Turkish, were once written with the Arabic alphabet, but nowadays are normally written with a different alphabet, such as Latin or Cyrillic.
[top]
---

---

Bengali script (Eastern Nagari / Eastern Neo-Brahmic script)
Also used to write: Bishnupriya, Bodo, Chakma, Chiru, Koda, Nisi, Deori, Dimasa, Hajong, Koch, Khasi, Kudmali, Tiwa, Sauria Paharia, Miri, Chothe Naga, Thangal Naga, Moyon Naga, Maring Naga, Rabha, Rangpuri, Santali, Sadri, Oraon Sadri, Sulung, Panchpargania, Tippera, Kok Borok, Toto and Usui.
Source: http://scriptsource.org/scr/Beng
---

---

[top]
---

Blackfoot, Carrier, Chipewyan, Cree, Inuktitut, Naskapi, Ojibwe, Oji-Cree
---

Chinese (hanzi), Cantonese (honji), Japanese (kanji), Korean (hanja), Vietnamese (chữ-nôm)
---

Cuneiform scripts
Akkadian Cuneiform script, Elamite Cuneiform, Hittite Cuneiform, Old Persian Cuneiform, Sumerian Cuneiform, Ugaritic Cuneiform
---

Abaza, Abkhaz, Adyghe, Aghul, Akhvakh, Altay, Andi, Archi, Assyrian / Neo-Assyrian, Avar, Azeri, Bagvalal, Balkar, Bashkir, Bats, Belarusian, Botlikh, Budukh, Bulgarian, Buryat, Chamalal, Chechen, Chukchi, Chuvash, Crimean Tatar, Dargwa, Dungan, Enets, Erzya, Even, Evenki, Gagauz, Godoberi, Hinukh, Hunzib, Ingush, Interslavic, Itelmen, Kabardian, Khinalug, Juhuri, Kalmyk, Karaim, Karakalpak, Karata, Kazakh, Ket, Khakas, Khanty, Khwarshi, Kildin Sámi, Komi, Koryak, Krymchak, Kryts, Kubachi, Kumyk, Kurdish, Kyrgyz, Lak, Lezgi, Lingua Franca Nova, Macedonian, Mansi, Mari, Moksha, Moldovan, Mongolian, Montenegrin, Nanai, Nenets, Nganasan, Nivkh, Nogai, Old Church Slavonic, Oroch, Orok, Ossetian, Russian, Ruthenian, Rutul, Selkup, Serbian, Shor, Shughni, Slovio, Tabassaran, Tajik, Talysh, Tat, Tatar, Tindi, Tofa, Tsakhur, Tsez, Turkmen, Tuvan, Ubykh, Udi, Udmurt, Ukrainian, Ulch, Urum, Uyghur, Uzbek, Votic, Wakhi, Yaghnobi, Yakut, Yukaghir, Yupik
[top]
---

Awadhi, Bhojpuri, Hindi, Kashmiri, Konkani, Kurukh, Maithili, Marathi, Marwari, Mundari, Nepal Bhasa / Newari, Nepali, Pali, Rajasthani, Sanskrit, Saraiki, Sindhi, Sunuwar, Sylheti
---

Amharic, Argobba, Awngi, Blin, Chaha, Dizin, Ge'ez, Harari, Inor, Silt'e, Tigre, Tigrinya, Xamtanga
[top]
---

Georgian, Laz, Mingrelian, Svan
---

Today the Greek alphabet is used to write Greek and occasionally Arvanitic, however at various times in the past it has been used to write such languages as Lydian, Phrygia, Thracian, Ancient Macedonian, Gaulish, Hebrew, Arabic, Old Ossetic, Albanian, Turkish, Aromanian, Gagauz, Surguch and Urum.
[top]
---

Also used to write Sanskrit and Hindi .
---

Also used to write such languages as Braj Bhasha, Khariboli (and other Hindustani dialects), Sanskrit and Sindhi.
---

Aramaic, Bukhori, Hebrew, Jewish Neo-Aramaic, Judeo-Arabic, Juhuri, Karaim, Ladino, Yiddish
---

Bhojpuri, Maghadi, Urdu, Awadhi, Maithili, Bengali
---

Kannada, Kodava, Konkani, Tulu
---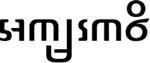 Sanskrit, Old Javanese and Old Malay
---

---
Sindhi, Punjabi, Gujarati, Urdu, Arabic, Persian and other languages
---

[top]
---

Also used to write: Tai Dam, Lave, Eastern Bru, Western Bru, Mong Njua, Iu Mien, Jeh, Kuy, Kataang, Lü, Khmu, Western Katu, Lamet, Hmong Daw, Ngeq, Pacoh, Phunoi, Upper Ta'oih and Lower Ta'oih
[top]
---

Abenaki, Acehnese, Acholi, Achuar-Shiwiar, Afaan Oromo, Afar, Afrikaans, Ainu, Ajië, Akan, Aklan, Akurio, Alabama, Albanian, Aleut, Algonquin, Alsatian, Amahuaca, Amarakaeri, Amis, Anutan, Apache, Arabela, Aragonese, Aranese, Arapaho, Arawak, Aromanian, Arrernte, Arvanitic, Asháninka, Asturian, Atayal, Atikamekw, Aymara, Azeri, Bambara, Baniwa, Bashkir, Basque, Bavarian, Belarusian, Bemba, Bikol, Bislama, Bora, Bouyei, Brahui, Breton, Bugis, Bundjalung, Burushaski, Bushi, Caquinte, Catalan, Cayuga, Cebuano, Central Sinama, Chamorro, Cha'palaachi, Chavacano, Chechen, Cheyenne, Chinanteco, Cimbrian, Chichewa, Chickasaw, Chipewyan, Chippewa, Choctaw, Chuukese, Cofán, Comanche, Cornish, Corsican, Cape Verdean Creole, Creek, Croatian, Crow, Cubeo, Cuyonon, Czech, Dagaare, Dagbani, Danish, Dawan, Delaware, Massachusett, Dholuo, Dinka, Dolgan, Drehu, Duala, Dusun, Dutch, Elfdalian, English, Esperanto, Estonian, Ewe, Ewondo, Eyak, Fanagalo, Faroese, Fijian, Filipino, Finnish, Flemish, Folkspraak, Fon, Fox, French, French Guianese Creole, Frisian, Friulian, Fula(ni), Futunan, Ga, Gagauz, Galician, Gallo, Ganda, Garifuna, Garo, Genoese, German, Gooniyandi, Greenlandic, Guadeloupean Creole, Guambiano, Guanano, Guarani, Guernésiais, Gugadja/Kukatja, Gwich'in, Haida, Haitian Creole, Hän, Hausa, Hawaiian, Herero, Hiligaynon, Hixkaryana, Hopi, Hotcąk, Hungarian, Huasteco, Iban, Icelandic, Ido, Igbo, Iloko, Inari Sámi, Indonesian, Ingrian, Interglossa, Interlingua, Interslavic, Iñupiaq, Irish, Italian, Iu Mien, Ixil, Jamaican, Jaminjung, Javanese, Jèrriais (Jersey Norman French), Jingulu, Juǀ'hoan, Juhuri, Kabyle, Kadazandusun, Kagayanen, Kaingang, Kala Lagaw Ya, Kam, Kanuri, Kapampangan, Kaqchikel, Karaim, Karakalpak, Karamojong, Karelian, Karuk, Kashubian, Kaurna, Kazakh, Ket, Khakas, Khoekhoe, Ki'che', Kikuyu, Kinyarwanda, Kiribati, Kirundi, Klallam, Klamath, Koasati, Kolam, Konkani, Koya, Kumyk, Kuna, Kurdish, Kven, Kwakiutl, Ladin, Lingala, Latin, Latino sine Flexione, Latgalian, Latvian, Lingua Franca Nova, Lithuanian, Livonian, Llanito, Lojban, Lombard, Low Saxon, Lozi, Lule Sámi, Alur, Luxembourgish, Maasai, Madurese, Makasarese, Makhuwa, Malagasy, Malay, Maltese, Mam, Manado Malay, Mandar, Mandinka, Maninka, Mankanya, Manx, Māori, Mapuche, Maranao, Marshallese, Massachusett, Mauritian Creole, Mazahua, Mazatec, Mbum, Megleno-Romanian, Meriam Mir, Miami, Mikasuki, Mi'kmaq, Minangkabau, Mirandese, Miskito, Mixtec, Mizo, Mohawk, Montagnais, Montenegrin, Moriori, Mossi, Mro, Mundari, Murrinh-Patha, Murui Huitoto, Nagamese, Nahuatl, Nama, Naskapi, Nauruan, Navajo, Naxi, Ndebele, Ndrumbea, Neapolitan, Nenets, Ngiyambaa, Nheengatu, Nias, Niuean, Noongar, Norn, Norwegian, North Frisian, Northern Sámi, Northern Sotho, Novial, Nuer, Nuosu (Yi), Nuu-Chah-Nulth (Nootka), Nǁng, Occidental, Occitan, Okinawan, Onondaga, O'odham, Omaha, Oneida, Old Norse, OshiWambo, Ossetian, Otomi, Ottawa, Paakantyi, Paama, Paicî, Palauan, Pangasinan, Papiamento, Pennsylvania German, Piedmontese, Pijin, Pipil, Pirahã, Pite Sámi, Pitjantjatjara, Pohnpeian, Polish, Pomo (Eastern), Porja, Portuguese, Potawatomi, Purepecha, Q'anjob'al, Q'eqchi', Quechua, Raga, Rapa Nui, Rarotongan, Ronga, Rotokas, Romanian, Romansh, Romany, Rotuman, Saami/Sámi, Saanich, Sakao, Salar, Samoan, Sango, Saramaccan, Sardinian, Sarikoli, Sarnámi Hindustani, Saterland Frisian, Scots, Scottish Gaelic, Seri, Seychelles Creole, Shavante, Shawnee, Shetland(ic), Shilluk, Shona, Shoshone, Shughni, Sicilian, Silesian, Sioux, Skolt Sámi, Slovak, Slovene, Slovio, Somali, Soninke, Sorbian, Southern Sámi, Southern Sotho, Spanish, Sranan, Supyire, Susu, Swahili, Swati/Swazi, Swedish, Tagabawà, Tagalog, Tahitian, Tatar, Taiwanese, Talysh, Tamajaq, Tamasheq, Tariana, Tausūg, Teleut, Tepehuán, Ter Sámi, Tetum, Tiriyó, Tłı̨chǫ (Dogrib), Tlingit, Toba Qom, Tok Pisin, Tokelauan, Tongan, Toraja-Sa'dan, Torres-Strait Creole, Tshiluba, Tsonga, Tsotsil, Tswa, Tswana, Tuareg, Tucano, Tumbuka, Turkish, Turkmen, Turoyo, Tuscarora, Tuvaluan, Tuvan, Twi, Tzeltal, Udi, Umbundu, Ume Sámi, Urarina, Uyghur, Uzbek, Venda, Venetian, Veps, Vietnamese, Volapük, Võro, Wa, Wakhi, Walloon, Warlpiri, Waray-Waray, Wardaman, Wayuu, Welsh, Wemba Wemba, West Frisian, Wik-Mungkan, Winnebago, Wiradjuri, Wolaytta, Wolof, Wynadot, Xârâcùù, Xhosa, Yaghnobi, Yapese, Yaqui, Yindjibarndi, Yolngu, Yoruba, Yucatec Maya, Yuchi/Euchee, Yurok, Záparo, Zapotec, Zarma, Zazaki, Zhuang, Zulu, Zuni
[top]
---

---

---

---

Languages of Malawi, including Chibemba, Chichewa, Chilambya, Chilomwe, Chimambwe, Chindali, Chingoni, Chinyiha, Chinyika, Chisena, Chisenga, Chisukwa, Chitonga, Chitumbuka, Chiyao, Kinyakyusa, Kyangonde.
---

Archaic Irish, Old Welsh, Latin
---

[top]
---

Chinese, Mongolian, Tibetan, Sanskrit
---

A-Hmao, Lipo, Sichuan Miao, Nisu
[top]
---

---
Kashmiri, Sanskrit and a number of other languages in the northwest of India and in parts of Central Asia.
---

---

Aramaic, Assyrian / Neo-Assyrian, Chaldean Neo-Aramaic, Neo-Mandaic, Turoyo, Western Neo-Aramaic
---
Chambeali, Dogri, Gaddi, Jaunsari, Kashtwari, Kulvi, Mandeali
---

Dzongkha (Bhutanese), Ladakhi, Sikkimese, Tibetan, Tshangla
---

[top]
---
Link
Other lists similar to the one on this page
http://en.wikipedia.org/wiki/List_of_languages_by_writing_system
What is writing? | A-Z index | Writing direction index | Language index | Site map | Search this site