Amele (Sona)
Amele is a Trans-New Guinea language spoken in Madang Province of Papua New Guinea by about 5,300 people. It is spoken in the hills of Astrolabe Bay between the Gum and Gogol Rivers. There are three dialects, Huar, Jagahala and Haija.
Amele alphabet and pronunciation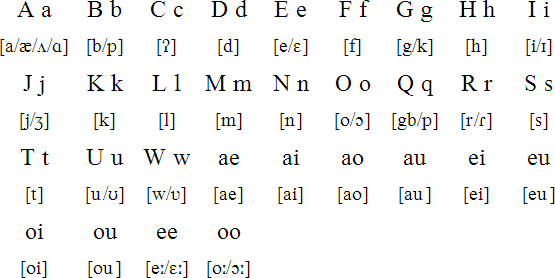 Source: http://www-01.sil.org/pacific/png/pubs/928474541389/Amele_Orthography_Reform.pdf
Download an alphabet chart for Amele (Excel)
Sample text (The Lord's Prayer)
O ege Memige, hina sao jobon biligina, hina ijain gun biliale. Hinana cul egeca hoiale. Hina con toodu odoc sao jobon ihoc lenawe odi mahana ha ihoc leiale. Sab jecnu ba i ihoc igigale. Dana age ege me qee odigeinnu ege dahinige celenwe hinaha egena me qee odadec eunu dahin celeiale. Hina ege temgecna cain ehi li migigaun. Euqa qisol mec kobol eu cagasigagale, doigale, aden.
Source: http://pngscriptures.org/aey/MAT06.htm
Details of Amele pronunciation and sample text provided by Michael Peter Füstumum
Information about Amele | Tower of Babel in Amele
Links
Information about the Amele languages
https://en.wikipedia.org/wiki/Amele_language
http://www.ethnologue.com/18/language/aey
https://pt.wikipedia.org/wiki/Língua_amele
Trans-New Guinea languages
Amele, Awara, Blagar, Kanasi, Meriam Mir, Teiwa, Wantoat
Other languages written with the Latin alphabet