Bolinao (Binu-Bolinao)
Bolinao is spoken by about 51,000 people mainly in the municipalities of Anda and Bolinao in Pangasinan province on Luzon in the Philippines. It is a member of the Philippine branch of the Malayo-Polynesian language family, and is also known as Bino-Bolinao, Binubolinao, Binubulinao, Bolinao Sambal, Bolinao Zambal, Bulinaw or Sambal Bolinao.
The language is taught in a number of schools, and 90% of speakers are able to read and write it.
Bolinao alphabet and pronunciation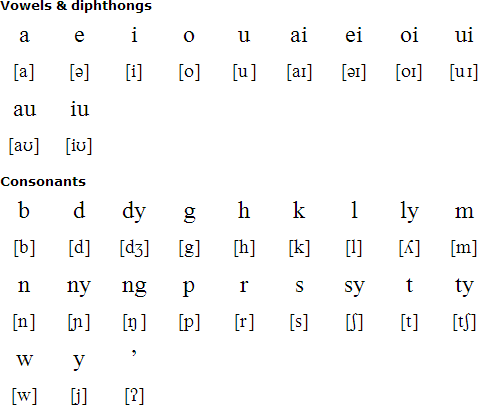 Download an alphabet chart for Bolinao (Excel)
Sample text in Bolinao
Si'ya a kai tanda' nin lumingap sa pangibwatan na, kai ya mirate' sa keen na.
Translation
He who does not acknowledge his beginnings will not reach his destination.
Source: http://en.wikipedia.org/wiki/Bolinao_language
Information about Bolinao | Numbers in Bolinao
Links
Information about Bolinao
http://en.wikipedia.org/wiki/Bolinao_language
http://www.ethnologue.com/language/smk
http://www.language-archives.org/language/smk/
http://www.binubolinao.com/Inglis/Inglis.htm
Bolinao dictionaries
http://bolinao.webonary.org
https://glosbe.com/fil/smk/
Philippine languages
Other languages written with the Latin alphabet