Cocopah (Kwikapa)
Cocopah is spoken in Baja California and Sonora in Mexico, and in nearby parts of Arizonia in the USA. There are about 300 speakers. In Mexico the language is known as Cucapá.
Cocopah was first written during the 1970s, when an alphabet was developed for it by a scholar for a university dissertation. This alphabet was not ideal and a new one was developed by the Cocopah people in Arizona in the 2000s. In Mexico an orthography developed by the Instituto Nacional de Lenguas Indígenas (National Indigenous Languages Institute) is used.
The Cocopah Museum, on the West Cocopah Reservation in Somerton, Arizona, has offered language classes to children since 1998.
Cocopah alphabet and pronunciation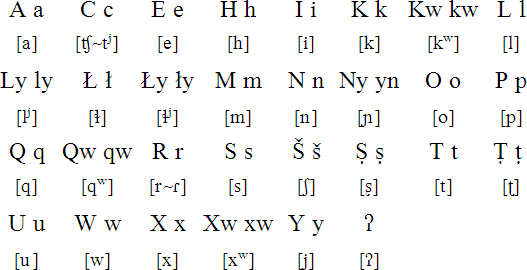 Download a PDF of the Cocopah alphabet (in German)
Details of Cocopah pronunciation provided by Wolfram Siegel
Links
Information about the Cocopah language and people
https://en.wikipedia.org/wiki/Cocopah_language
http://www.native-languages.org/cocopa.htm
http://www.cocopah.com/about-us.html
http://www.yumasun.com/news/local/cocopah-language-class-seeks-to-keep-ancient-tongue-from-dying/article_1c402cd5-d5fc-5215-b479-af2c0d06b3af.html
http://america.pink/cocopah-language_1032303.html
Other languages written with the Latin alphabet