Edo (Ẹ̀dó)
Edo is a Volta-Niger langauge spoken by about a million people mainly in Edo State in southern Nigeria, and in Sao Tomé-et-Principe. It is also known as Benin, Bini, Addo, Oviedo or Ovioba.
Edo is mainly an oral language, however there is some written material, including dictionaries, textbooks and historical texts.
Edo alphabet and pronunciation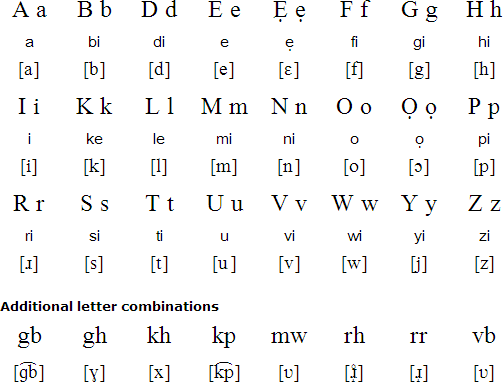 Notes
Before nasal vowels b and p = [m], d, l and t = [n], g and k = [ŋ], gb and kp = [ŋ͡m], w = [ŋʷ], y = [ɲ].
Long vowels are indicated by doubling the vowel letters
Nasal vowels are indicated by adding an n after them, or a nasal consonant before them
The low tone is indicated by a grave accent (à), the high tone by an acute accent (á), the falling tone by a circumflex accent (â), and the mid tone is unmarked.
Hear the Edo alphabet
Sample phrases in Edo
Ób'ókhían = Welcome
Ób'ówa = Greetings to you at home
Kóyo = Hello
Vbèè óye hé? = How are you?
Òy' èsé = It is fine, o.k.
Ób'ówie = Good morning
Ób'ávàn = Good afternoon
Ób' ótà = Good evening
Òkhíen òwie = Until tomorrow morning/good night
Ù rú èsé = Thank you
Source: http://www.edofolks.com/html/pub44.htm
Links
Information about Edo
https://en.wikipedia.org/wiki/Edo_language
https://fr.wikipedia.org/wiki/Édo_(langue)
http://www.ethnologue.com/18/language/bin
http://www.edofolks.com/html/pub44.htm
http://www.edofolks.com/html/1language.htm
http://www.edoworld.net/Edo_Alphabet.html
Volta-Niger languages
Edo, Ewe, Fon, Igbo, Kupa, Yorùbá
Other languages written with the Latin alphabet