Griko (Γκρίκο)
Griko is a variety of Italiot Greek spoken by about 60-70,000 people in Apulia and Calabria in southern Italy. Greek linguists call this language Grekanika (Γρεκάνικα) or Katoitaliotikà (Κατωιταλιώτικα ("Southern Italian"). Native speakers called it Griko (Γκρίκο) or Katoitaliótika (Κατωιταλιώτικα), and call themselves Griki (Γκρίκι). Griko is not mutually intelligible with Modern Greek.
Griko is spoken on the Salento peninsula in southern Apulia in a region known as Grecìa Salentina, specifically in the towns of Martano, Castrignano de' Greci, Corigliano d'Otranto, Melpignano, Soleto, Sternatia, Zollino, Martignano. It is also spoken in Calabria in an area known as Bovesia or Grecia Calabra (Calabrian Greece) in a number of villages, and also in Reggio Calabria city.
The Griko people in Calabria and Salento are recognised by the Italian government as a Greek ethnic and linguistic minority.
Music, songs and poetry form part of a rich oral tradition in Griko, and are popular in Italy and Greece. There are few written materials in Griko, such as periodicals, collections of poetry, and books for children.
Griko Latin alphabet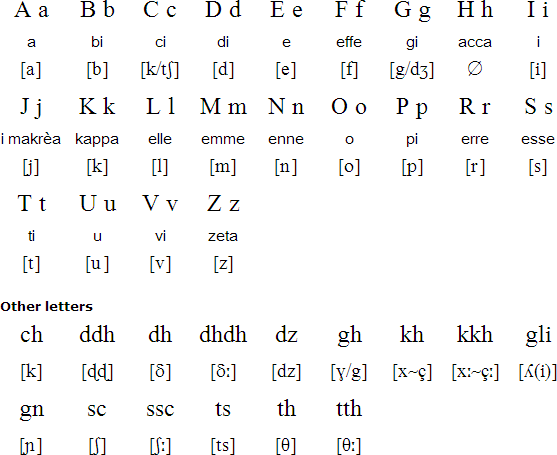 Notes
The Latin alphabet for Griko is based on Italian.
Q (cu), w (vi/vu dípla), x (ics) and y (ípsilon) are only used in foreign words and names.
G = [dʒ] before e and i, [g] elsewhere.
Gh = [g] before e and i, [γ] elsewhere.
Kh = [x] before e and i, [ç] elsewhere.
Griko Greek alphabet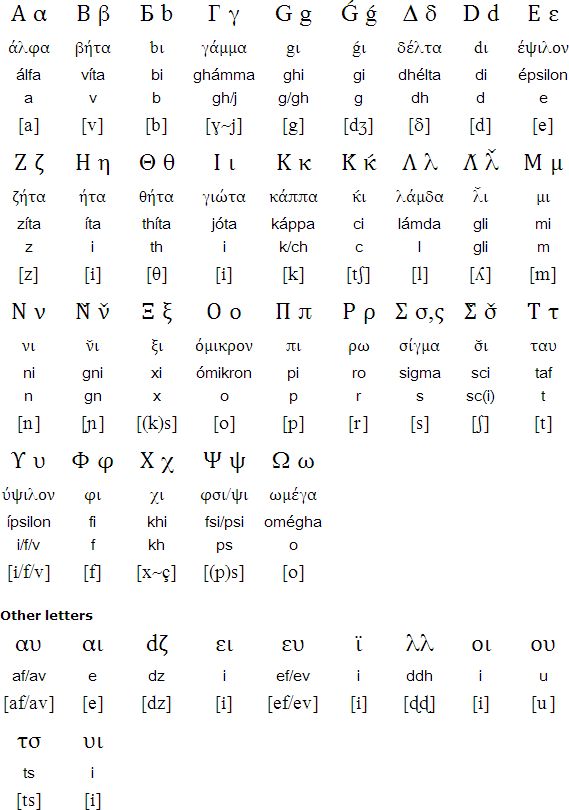 Notes
Ξ and ψ are only used in Greek words and names.
γ = [γ] before ε, η, ι, οι, and υ, [j] elsewhere.
χ = [x] before ε, η, ι, οι, and υ, [ç] elsewhere.
ΓΚ (gk) appears to be another way to represent the sound /g/, as in Γκρίκο (Griko).
Download an alphabet chart for Griko (Excel)
Sample text in the Latin alphabet
Evò pànta sè sèna pensèo, jatì sèna fsikhì mou gapó, cè pù pào, pù sìrno, pù stèo stìn kardìa, mu pànta sèna vastò.
Sample text in the Greek alphabet
Ἐβὼ πάντα σὲ σένα πενσέω, γιατὶ σένα φσυχή μου γαπῶ, κ́αὶ ποῦ πάω, ποῦ σύρνω, ποῦ στέω στὴν καρδία, μου πάντα σένα βαστῶ.
Translation (Good night)
I always think of you because I love you, my soul, and wherever I go, wherever I drag myself into, wherever I stay, inside my heart I always hold you.
This is a popular Griko song called Καλην ύφτα (Kalinífta) or 'Good night'
Information provided by Michael Peter Füstumum
Sample video in and about Griko
Sample recording
This is a traditional Griko song, "Antra Mou Paei (Αντρα Μου Παει), sung by Maria Farantouri (Μαρια Φαραντουρη).
Links
Information about Griko
https://en.wikipedia.org/wiki/Griko_dialect
https://www.uoc.edu/euromosaic/web/document/grec/an/i1/i1.html
http://www.molossia.org/griko.html
http://www.greeknewsonline.com/who-are-the-griki-and-what-is-their-language/
https://www.culturalsurvival.org/publications/cultural-survival-quarterly/brink-griko-language-resistance-and-celebration
http://enosi-griko.org/Articoli/Greek_Vernacular.html
Hellenic languages
Greek, Griko, Tsakonian, Yevanic
Languages written with the Greek alphabet
Arvanitic, Cypriot Arabic, Greek, Griko, Tsakonian
Languages written with the Latin alphabet