Inari Sámi (Anarâškielâ)
Inari Sámi is an Eastern Sámi language spoken in the municipality of Inari in Finland by about 300 speakers, 269 of whom speak it as a first language, according to the Sámi Parliament of Finland. The majority of speakers are middle-aged or elderly and the language is considered seriously endangered.
The first book in Inari Sámi, Anar sämi kiela aapis kirje ja doctor Martti Lutherus Ucca katkismus by Edvard Wilhelm Borg, was published in 1859. A translation of the Bible in Inari Sámi was published in 1906 and a small number of books have been appeared since then.
The Sámi people in Finland have had the right to use their own languages with government officials since 1992 in the areas where they have traditionally lived, including Inari, where Northern and Skolt Sámi are also spoken. However only 1 in 10 public servants in Inari can actually speak Inari Sámi, so the majority of them use Finnish.
The Inari Sámi Language Association (Anarâškielâ servi) was set up in 1986 to promote the language. They produce various books, a newspaper (Kierâš online) and other publications, and have been running an immersion programme in Inari Sámi for children between 3 and 6 years old since 1997, and the language has been taught in schools since the 1970s. Since 2005 Inari Sámi has been used as a medium of instruction for the first four years of primary education.
Inari Sámi is also used in music, and a CD of rap in the language was released in 2007.
Inari Sámi alphabet and pronunciation
The Inari Sámi alphabet currently in use was officially adopted in 1996.
Inari Sámi alphabet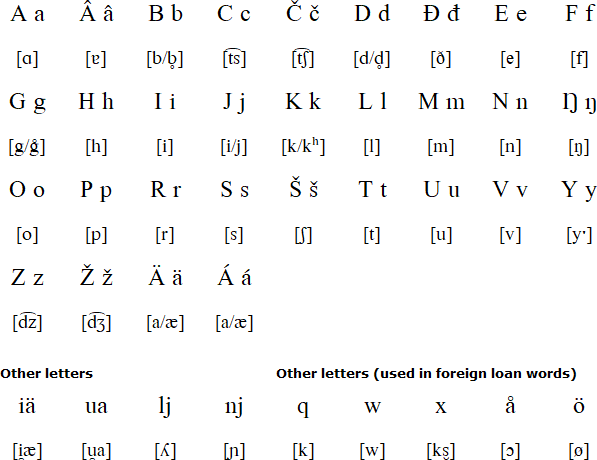 Notes
Between vowels g is pronounced [ɣ/j/v]
The letters â, q, w, x and ö are also used, but only in foreign loanwords.
Inari Sámi pronunciation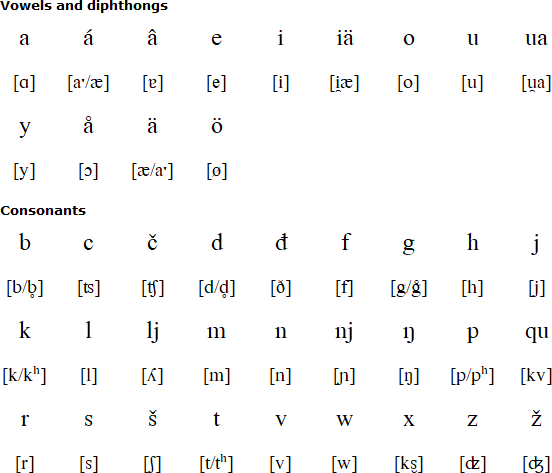 Information about the Inari Sámi alphabet and pronunciation compiled by Wolfram Siegel.
Sample text in Inari Sámi
Pyeri peivi. Mun lam Hans Morottaja, 67 ihásâš anarâš. Mun lam varrim Anarist 1981 Helsigân. Mu päikki lâi Kaamasist, tärkkilubbooht Saammadjäävrist mii lii meccitáálu kukken tuárispeln. Tot uba kuávlu lii ävdin, ii ohtagen fastaässee innig aasa tobbeen. Tääl mun aasam Helsigist, tave Haagast. Tast maŋa ko mun Helsigan várrejim, lijjim pargoost Martinlaaksost Vantaa peln. Tot pargo lai suullan tegu táálualmaa pargo. Mun lijjim tast iáláttuu rái, mast lam lamaš jo muáddi ive. Mun lam Aanaar sámmilâš, anarâš. Anarâšah ääsih Anarist, Aanaarjäärvi pirrasijn. Mist lii mii jieččan kielâ, anarâškielâ, amid eres sämmiliih iá ollásáávt addii. Anarâškielâ sárnooh láá suullan 400-500. Eenab ko peeli anarâšain iá mááti innig eenikielâs. Ko anarâšah áásih Aanaarjäävri pirrasijn, te sij láá lamaš ain kuálásteijeeh, eenab ko eres sámmiliih. Tontet sij láá nobdum-uv kuálásteijeesämmilâžžân.
Some of the information on this page was supplied by 이윤호
Links
Information about Inari Sámi
http://en.wikipedia.org/wiki/Inari_Sámi_language
http://www.samimuseum.fi/anaras/english/kieli/kieli.html
http://http-server.carleton.ca/~toivonen/pdf/lagb.pdf
Vocabulary in Inari Sámi
http://www.uta.fi/~km56049/same/inarinsaame.html
Video about Inari Sámi
http://video.helsinki.fi/Media-arkisto/inarin_saamelaiset.html
Anarâškielâ seervi (Inari Sámi Language Association)
http://www.anaraskielaservi.net
Kierâš online (Inari Sámi newspaper)
http://www.anaraskielaservi.net/kieras/
Inari Sámi, Kildin Sámi, Lule Sámi, Northern Sámi, Pite Sámi, Skolt Sámi, Southern Sámi, Ter Sámi, Ume Sámi
Other languages written with the Latin alphabet