Lotuko (Otuho)
Lotuko is an Eastern Nilotic language spoken in South Sudan by about 140,000 people, mainly in the Western Equatoria region. The language is also known as Lotuxo, and has a number of dialects.
Lotuko alphabet and pronunciation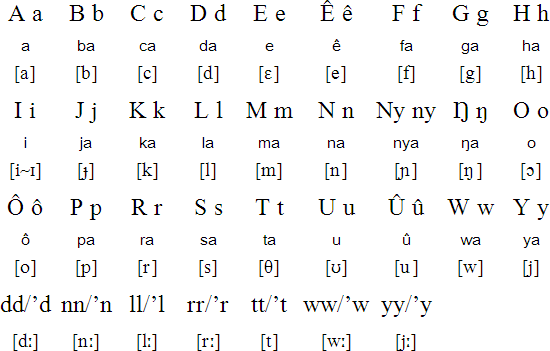 Notes
Tones are not written, except for the he- prefix. This prefix is written with an acute accent (hé-) if the tone is high, to mean positive actions. It is written a grave accent (hè-) if the tone is low, to mean negative actions.
Information compiled by Michael Peter Füstumum
Links
Information about Lotuko
https://en.wikipedia.org/wiki/Lotuko_language
https://fr.wikipedia.org/wiki/Otuho
> http://www.ethnologue.com/18/language/lot
https://www.sil.org/system/files/reapdata/10/06/46/100646256099282892829790816212446104791/OPSL_9.pdf
Nilo-Saharan languages
Acholi, Alur, Aringa, Avokaya, Baka, Bari, Beli, Bongo, Dholuo, Dinka, Dongotono, Fur, Jur Modo, Kanuri, Karamojong, Keliko, Lotuko, Lokoya, Lopit, Lugbara, Maasai, Ma'di, Morokodo, Moru, Narim, Nuer, Olu'bo, Shilluk, Toposa, Wa'di, Zarma
Other languages written with the Latin alphabet