Lumun
Lumun is a member of the Talodi branch of the Niger-Congo language family spoken mainly in the Lumun hills, east of Kadugli in the Nuba Mountains in Southern Kordofan state (Janub Kurdufan) in central Sudan. There are about 30,000 speakers. Lumnun is also known as Lomon or Kuku-Lumun.
Lumun alphabet and pronunciation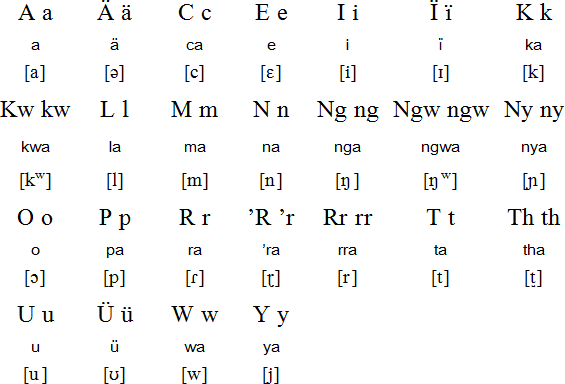 Details of Lumun provided by Michael Peter Füstumum
Sample text (Ukul ana Ïmït)
Ca'ri c-'rek c-okat cik cukku Torru, ana amma cukku c-aat ul w-urukot i-pira thuput nti icarak co man. Ukkul w-'rek w-okat cik w-occot k'ran itti Olotti ana okin th-onat no ka'ran i-koccot k'ran itti Thoicang uwo oingkanthet noththok po E'reme.
Translation (A Boy and a Goat)
A story took place in Lumun land in Autumn; In Autumn, people who have animals move them into the forest further inside the home area. A certain boy named Loti had animals at the place named Toijang, which is down towards the country of the Aceron.
Source: http://www-01.sil.org/silepubs/Pubs/928474542840/LCDD_15_Lumun_Stirtz_final.pdf
Links
Information about Lumun
https://en.wikipedia.org/wiki/Lumun_language
http://www.endangeredlanguages.com/lang/lmd
http://www.ethnologue.com/18/language/lmd/
http://www-01.sil.org/silepubs/abstract.asp?id=928474542840
https://www.sil.org/system/files/reapdata/10/06/46/100646256099282892829790816212446104791/OPSL_9.pdf
Talodi languages
Acheron, Dengebu, Lumun, Tocho
Other languages written with the Latin alphabet