Manggarainese (Manggarai)
Manggarainese is a Malayo-Polynesian language spoken in the western part of Flores island in East Nusa Tenggara Province of Indonesia. In 2009 there were 730,000 speakers of Manggarainese, according to the Central Agency on Statistics of East Nusa Tenggara Province. There are also some Manggarainese speakers in the village of Manggarai in Jakarta.
Manggarainese alphabet and pronunciation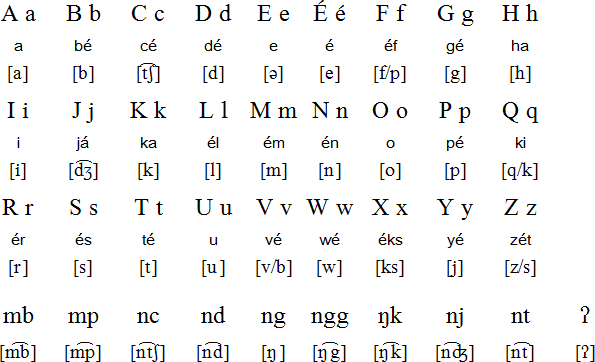 F, q, v, x and z are only used in loanwords and foreign names.
Download an Manggarainese alphabet chart (Excel)
Sample text (The Lord's Prayer)
Ema dami éta Surga, Nggeluk koé ngasang Dité, Cai koé perénta Dité, Jari koé ngoéng Dité Oné lino ného éta Surga. Téing koé ami leso ho'o, Mosé nai te ami ata daingn Agu ampong koé ndékok dami, ného ami ampong ata pandé sala agu ami; néka dadé ami nggeroné damang, Maik tadang koé sanggéd da'at.
Source: https://www.bible.com/en-GB/bible/761/MAT.6.BMNT
Some information provided by Michael Peter Füstumum
Sample video in Manggarainese
Information about Manggarainese | Numbers in Manggarainese
Links
Information about Manggarainese
https://en.wikipedia.org/wiki/Manggarainese_language
https://fr.wikipedia.org/wiki/Manggarai_(langue)
http://www.ethnologue.com/17/language/mqy/
Malayo-Polynesian languages
Other languages written with the Latin alphabet