Narim (Boya)
Narim is a Nilo-Saharan language spoken in the Boya Hills of South Sudan by about 3,600 people. It is also know as Larim, Laarim or Longarim, and belongs to the Surmic branch of the Eastern Sudanic languages.
Narim alphabet and pronunciation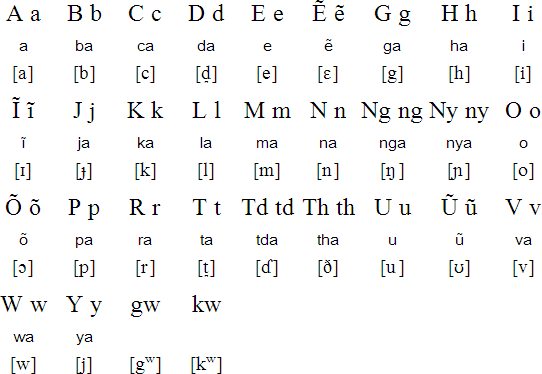 Sample text
A ne, avu da balola Laarimi Looca ĩcĩ ithiopia, attia baath lõkõrẽ cĩ Ithiopia kĩ Kẽnia ĩthõng ullucciak Mogila.
Translation
It is said that a long time ago, Laarim were in the land of Ethiopia. They came to the desert neighbouring Ethiopia and Kenya and came down to Mogila.
Source: https://www.sil.org/
Information compiled by Michael Peter Füstumum
Links
Information about Narim
https://en.wikipedia.org/wiki/Narim_language
http://www.ethnologue.com/18/language/loh
http://www-01.sil.org/silewp/2011/silewp2011-012.pdf
https://www.sil.org/resources/archives/58710
https://www.sil.org/system/files/reapdata/69/87/68/69876836327318273147535266682125608511/NarimDiscourseGrammarBookJul13.pdf
Nilo-Saharan languages
Acholi, Alur, Aringa, Avokaya, Baka, Bari, Beli, Bongo, Dholuo, Dinka, Dongotono, Fur, Jur Modo, Kanuri, Karamojong, Keliko, Lotuko, Lokoya, Lopit, Lugbara, Maasai, Ma'di, Morokodo, Moru, Narim, Nuer, Olu'bo, Shilluk, Toposa, Wa'di, Zarma
Other languages written with the Latin alphabet