Rapa Nui (Vananga rapa nui)
Rapa Nui, or Rapanui, is a Polynesian language spoken by about 2,700 people on Easter Island and also in Chile, Tahiti and the USA. Rapa Nui is a member of the eastern branch of Polynesian languages and is related to the languages of Tahiti and the Marquesas, and also to Maori.
Easter Island, which is known as Rapa Nui in Rapa Nui and Isla de Pascua in Spanish, was annexed by Chile on 9 September 1888 and has been run by Chile since then. On 30 July 2007 the island became a special territory of Chile. Until the late 1990s the Rapa Nui people were effectively not permitted to speak their native language, and Spanish was required for public sector jobs. Education was also in Spanish.
Since the early years of the 21st century language policies have changed and there are now classes in Rapa Nui in Easter Islands schools, and some subjects, such as science and history, are taught through Rapa Nui in one school.
A version of the Latin alphabet is used to write Rapa Nui, although the language is rarely written, and most Easter islanders write in Spanish. However in 2010 the first ever newspaper in Rapa Nui was published, and there are plans for a dictionary.
Rapa Nui alphabet and pronunciation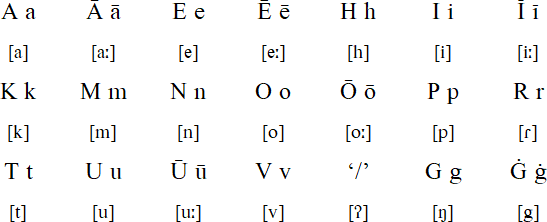 Notes
Vowels can be long or short, and are long when stressed and at the end of a word.
Loanwords from Spanish sometimes use ġ to represent the Spanish g sound
Sample of Rapa Nui speech
Information about Rapa Nui | Numbers | Rongorongo script | Language learning
Links
Informationa about Rapa Nui
http://en.wikipedia.org/wiki/Rapa_Nui_language
http://www.rongorongo.org/vanaga/
http://pri.org/stories/2013-09-04/easter-island-dedicated-few-trying-preserve-native-rapa-nui-language
Rapa Nui dictionary
http://kohaumotu.org/Rongorongo/Dictionary/dictionary_complete.html
Rapa Nui phrases
http://www.logos.it/corso_rp/02_lezione.html
http://www.logos.it/corso_rp/04_lezione.html
http://imaginaisladepascua.com/en/easter-islands/rapa-nui-culture/rapa-nui-language/
Information about Easter Island
http://www.rapanui.cl
http://www.netaxs.com/~trance/rapanui.html
Polynesian languages
Other languages written with the Latin alphabet