Southern Pomo
Southern Pomo is a Pomoan language spoken in northern California in the USA. In 2012 there was one fluent speaker of Southern Pomo and one remeberer, and a few other who knew a bit of the language.
The language was documented to some extent in the 1940s, and work was started, though not finished, on a Southern Pomo dictionary.
In 2011 a language restoration program was set up by Dr Neil Alexander Walker for the Dry Creek Rancheria Band of Pomo Indians. This includes classes, a mobile app, signs and summer camps.
Southern Pomo alphabet and pronunciation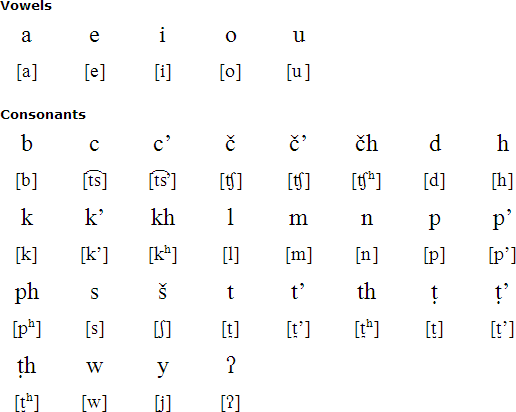 Download a Southern Pomo alphabet chart (PDF, in German)
Note
In the PDF it shows w is pronounced /w/ or /ɰ/ and that w is seldom used and restricted to borrowings. This is not true: w is always pronounced /w/, and is one of the most common phonemes.
Details of Southern Pomo pronunciation supplied by Wolfram Siegel, with corrections by Dr Neil Alexander Walker
Links
Information about Southern Pomo
https://en.wikipedia.org/wiki/Southern_Pomo_language
http://www.ethnologue.com/language/peq
http://wieldoc.org/?page_id=30
http://linguistics.berkeley.edu/~survey/languages/southern-pomo.php
http://wieldoc.org/?page_id=30
Pomoan languages
Eastern Pomo, Kashaya, Northern Pomo, Southern Pomo
Other languages written with the Latin alphabet