Suriyani Malayalam (സുറിയാനി മലയാളം / ܣܘܼܝܲܢܝܼ ܡܲܠܲܝܵܠܲܡ)
Suriyani Malayalam is a variety of Malayalam used by Saint Thomas Christians in Kerala in India as a liturgical language. It is also known as Karshoni or Syriac Malayalam, and its speakers are also known as Syrian Christians or Nasranis. The language uses Malayalam grammar, and includes Malayalam and East Syriac vocabulary. It was written with the East Syriac script until the 19th century. Parts of the liturgy are still sung in Syriac.
In order to write Malayalam with the East Syriac script, new letters had to be created, as Syriac has only 22 letters, and Malayalam has 53 phonemes.
Notable features
Type of writing system: syllabic alphabet / abugida
Direction of writing: left to right in horizontal lines
Used to write: Suriyani Malayalam
Suriyani Malayalam alphabet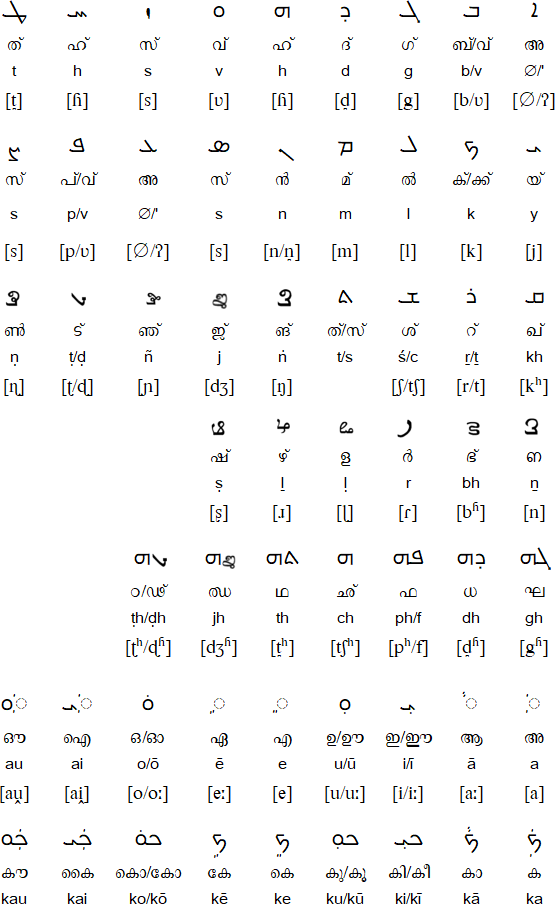 ܨ ,ܥ ,ܛ ,ܚ ,ܙ are only used in Semitic loanwords.
Download alphabet charts for Malayalam (Excel)
Some information provided by Michael Peter Füstumum
Sample text

Transliteration
Abun d'bashmaya, nethqandash shmak, tethe malkuthak, qandish, qandish, qandishat. Abun d'bashmaya, damlen shmaya war'a rambuth shubak. 'Eere u'nasha qa'yen lak, qandish qandish, qandishat.
Translation
Our Father in heaven, hallowed by Your name, Your Kingdom come. Holy, holy, holy are You! Our Father in heaven, heave and earth are full of the grandeur of Your glory. Angels and men cry out: Holy, holy holy are You!
Source: http://www.nasranifoundation.org/articles/images/OurFatherinEast-Syriac.gif
Information about Malayalam | Suriyani Malayalam | Phrases | Numbers | Tower of Babel | Learning materials
Links
Information Suriyani Malayalam
https://en.wikipedia.org/wiki/Suriyani_Malayalam
http://www.nasranifoundation.org/articles/syriac.html
Dravidian languages
Badaga, Brahui, Gondi, Jatapu, Kannada, Kodava, Kolam, Konda, Koya, Kurukh, Malayalam, Mukha Dora, Sankethi, Savara, Sunuwar, Suriyani Malayalam, Tamil, Telugu, Tulu, Yerukula
Languages written with the Syriac script
Aramaic, Assyrian / Neo-Assyrian, Chaldean Neo-Aramaic, Neo-Mandaic, Suriyani Malayalam, Turoyo, Western Neo-Aramaic