Tsimshian (Sm'algya̲x)
Tsimshian is a Tsimshianic language spoken along the lower Skeena River in northwestern British Columbia in Canada, and at Metlakatla on Annette Island in southeastern Alsaka in the USA.
The 2006 Canadian census counted 640 Tsimshian speakers, and there are thought to be 70 Tsimshian speakers in Alsaka. Other sources estimate the number of Tsimshian speakers in Canada to be between 200 and 430 [Source 1, Source 2].
There are two main dialects of Tsimshian: Coastal and Southern. The former is spoken in Alasaka, and the former in British Columbia. The majority of Tsimshian speakers are over 70, and few are under 50.
Tsimshian is taught at the University of Alaska Southeast at Juneau.
The Tsimshian orthography used in Canada was developed in the 1960s by scholars working on Tsimshian, and related languages such as Gitksan and Nisga'a. It was substantially revised in the 1990s when textbooks for schools were being prepared. The Tsimshian Sm'algya̲x Authority currently oversees the language. A different orthography is used in Alsaka, taught by the Dum Baal-dum organisation. In that orthography, the native name of the language is written Shm'algyack. This means 'real or true language'. The English name of the language is also written Zimshian.
Parts of the Book of Common Prayer were translated into Tsimshian by William Ridley and Jane Holmes Ridley and published in 1882.
Tsimshian alphabet and pronunciation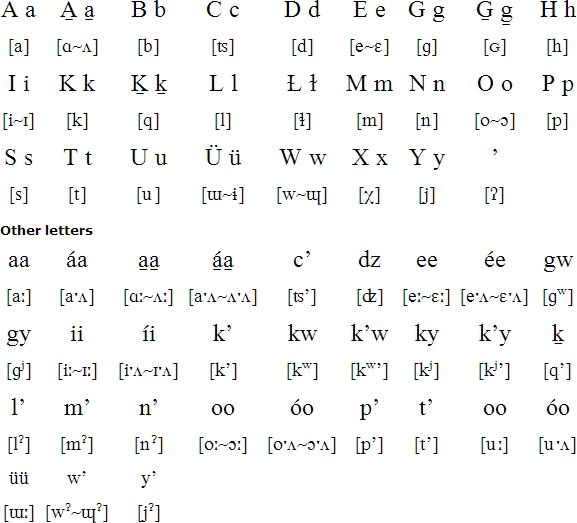 Download Tsimshian alphabet charts in PDF or Excel format.
Details of the Tsimshian alphabet provided by Wolfram Siegel
Sample text (The Lord's Prayer)
Nagwādum gu zim lakāga: n'lthōduksha na wānt. Am dum goiduksha na kingdom gunt. Shagaud-gun dum wāl halizokum, nīwālda zin lakāga. Ginamlth a gum a sha gwa ām di shkabū wunēumt. Ada ma shalthīl na hadadakumi, nīwālda dup wila shalthil na hadak ga di da gum. Ada gilau ma za dadēuntk gum shpugait gunshpālt gaudit. Ada ma al dīlamaud gum a hadak gut. Amen.
Source: A Zimshian Version of Portions of the Book of Common Prayer (1882)
Information about Tsimshian | Numbers in Tsimshian
Links
Information about Tsimshian
https://en.wikipedia.org/wiki/Coast_Tsimshian_dialect
http://www.ethnologue.com/18/language/tsi
http://www.native-languages.org/tsimshian.htm
http://www.alaskool.org/language/Shimalgyack/default.htm
http://www.languagegeek.com/tsimshian/smalgyax.html
http://www.alaskanativelanguages.org/tsimshian
http://www.sorosoro.org/en/tsimshian-languages/
https://www.uaf.edu/anlc/languages/ts/
http://www.seattleglobalist.com/2015/12/08/smalgyax-native-american-language-preservation/44225
Sm'algya̲x Living Legacy Talking Dictionary
http://smalgyax.unbc.ca/
Tsimshianic languages
Other languages written with the Latin alphabet