Xârâcùù
Xârâcùù is a member of the New Caledonian branch of Malayo-Polynesian language family spoken in New Caledonia by about 5,700 people. It is spoken in the communities of Canala, Thio and Boulouparis. The language is also known as Kanala.
The Xârâcùù alphabet was developed during the 1980s. Before then missionaries used the same system as Ajië to write Xârâcùù.
The language is taught in one primary school in Canala in two colleges in Thio and Canala.
Xârâcùù alphabet and pronunciation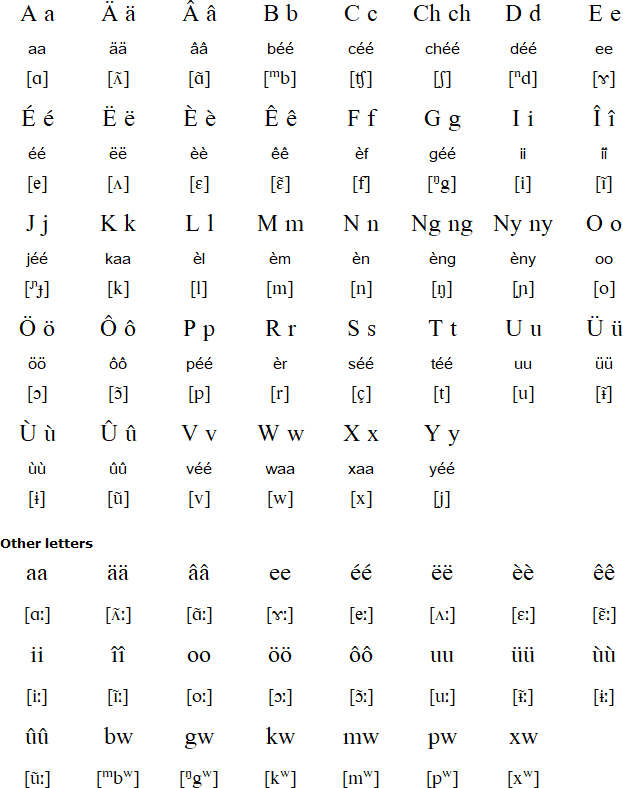 Vowels can be long, and are doubled to indicate this.
Download a chart of the Xârâcùù alphabet (PDF in German)
Information about Xârâcùù alphabet and pronunciation compiled by Wolfram Siegel
Links
Information about Xârâcùù
http://en.wikipedia.org/wiki/Xaracuu_language
http://fr.wikipedia.org/wiki/Xârâcùù
http://www.ethnologue.com/language/ane/
http://www.sorosoro.org/en/videos-in-xaracuu-new-caledonia
Malayo-Polynesian languages
Other languages written with the Latin alphabet