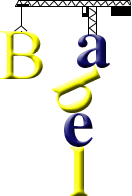 The Tower of Babel (Genesis 11: 1-9)
---
Batak Angkola
Taringot toe anak ni Si Noak dohot taringot toe palas-palas na di hoeta Babel.
Asa doeng haroear Si Noak dohot dongannia sian paraoe i, bahat ma adong paresoön. Salapan do halahi na so mate dibaen aek na oto i, djadi bohal na nipasingkop laho masoek toe paraoe soede ne ma.
Hara ni i sosak ma roha ni halahi mambaen saba dohot koboen, ragam-ragam ma nisoean, antjo adong panganon.
Djadi adong ma saragam hajoe disoean Si Noak, na margoar hajoe anggoer, na tonggian do batoena, moeda niporo i, dapot ma inoemon na lobi tabo. Hoem on do salana, moeda ma bahat toe niinoem i, ra do iba mabok dibaensa. Djadi saoelak tarinoem Si Noak ma lobi sian na tama, djadi mabok ma ia. Djadi doeng diida Si Kam amangnia mabok, dipartatai djana diintjahi ia. Djadi moeroek ma Si Japet dohot Si Sem oembege intjaknia i, didokkon halahi ma di sia: "doeng na songon i tarsoeng pangalaho ni amanta, nada patoet dope diengenengen ko, na so oemboto oehoem do ho," ning halahi, djadi kehe ma halahi patoerehon amang ni halahi.
Asa doeng tarkalak Si Noak, tarboto ma disia parange ni Si Kam, djadi dimoeroehi ia, didokkon ia ma : "dibaen na songon i djat ni parangemoe, bona boera ma ho dohot pomparanmoe barang na piga soendoet, hatoban ni kahanggimoe ma ho, pomparanmi pe hatoban ni pomparan ni halahi do," ning ia. Anggo Si Japet dohot Si Sem dipoedji djana dipasoe-pasoe ia.
Tiboe do mangoelahi riboer manoesia i di tano on, mari-ari ma dibaen gindjang ni oemoer dompahi. Songon Si Noak ma, toemboek onom ratoes taon oemoernia, di na mantak aek na oto i. Djadi nada sadia lolot, angkon manjarsar ma halak hara ni sompit ni tano. Saoelak mandjalahi tano pambaenan ma halak, dapot ma padang na bidangna hornop di loeat Sinear, na momoan tomboeron ni aek. Djadi mamoengka hoeta ma deba pomparan ni Si Noak di si. Mangasa riboerna dohot denggan ni parkoetaän diambang halahi, na doeng tarbaen ma marroha-roha sanga songon dia hagiotna.
"Hita do na malo, goeroe di rohanta do soede !" boti ma hata ni na deba. "Tama do antong tabaen tanda ni sinaloanta dohot bisoekta, tanda saroha hita moese, oelang be padao-dao hita, oelang be marserak harana saroempoen do hita," ninna na deba nari. Djadi poeloe ma tahi ni halahi padjongdjongkon palas-palas na hintjat sanoli. " Angkon soengkot di langit oedjoengna i !" ninna sada. "Tano tako tabaen antjo tahan honok," ninna sada nari. Djadi doeng dipoengka halahi, hoem satonga sidoeng dope, bo soendat ma karedjo i, harana diparoendoet Debata ma parkataän ni halahi, oempe marsiastoean be. Djadi i do pasarsar halahi.
Source: Barita na denggan na tarsoerat di hata ni debata (Pardjandjian na Honok) binaen di Hata Angkola. Bijbelsche Verhalen van het Oude Testament in het Angkola-Bataksch. Amsterdam 1917.
Contributed by Wolfgang Kuhl
---
Batak Karo (Cakap Karo)
Menara Babil
Mula-mula nai sada nge cakap ras kata si ipake manusia i belang-belang doni enda.
Berkat manusia e kempak matawari pultak, e maka seh ia i bas sada taneh kendit i Babilon. I je me ia ringan.
Nina sapih-sapih ia, "Mari! Sibahanlah batu bata, kenca bage situtung gelah piher." E maka enggo lit i bas ia batu bata jadi bahan bangunen, ras ter guna bahan perekatna.
Nina ka kalak enda, "Sibahanlah sada kuta ras menara, tampukna seh ku langit, gelah arah e terberita gelarta, janah la kita merap i babo doni enda."
E maka nusur TUHAN ngenen kuta ras menara si enggo ipajekken kalak enda.
Nina TUHAN, "Genduari kalak enda sada bangsa ras sada cakap; enda me bena-bena i bas kerina pendahinna. Lanai ndekahsa kuga pe beluh ia erbahan kai pe atena!
Ota nusur Kita, sipecah cakapna jadi melala gelah lanai ia siangkan sapih-sapih ia."
E maka ikerapken TUHAN kalak ndai ku belang-belang doni enda. Kenca bage lanai iteruskenna majekken kuta e.
E me sabapna maka kuta ndai igelari Babil, erkiteken TUHAN enggo nggawer cakap manusia, janah i jenari me TUHAN ngkerapken manusia ku belang-belang doni enda.
Source: Kejadin (Genesis). Pustaka Si Badia. Today's Batak Karo Version. Lembaga Alkitab Indonesia. Indonesian Bible Society, 2003.
Contributed by Wolfgang Kuhl
---
Batak Toba
Tungkup di huta Babel
Saragam do pangkuling masa di sandok tanoon djala sada do hata.
Djadi di na marbungkasan nasida sian habinsaran, djumpang nasida ma tano pea di luat Sinear, gabe maringan nasida disi.
Dungi masipandohan ma nasida: tole, tatopa ma tano bahen tano tako, djala masak situtu itatutungi. Djadi tano na minasaknai dipangke bahen batu djala barerang dipangke nasida bahen rapot.
Dungi angka dipandok nasida ma: tole, tapungka ma sada hutanta, djala tapadjokkon sada tungkup, sungkot ro di langit punsuna, tabahen ma baritanta, asa unang morserak hita tu liat portibion.
Djadi tuat ma Djahowa marnida huta dohot tungkupi, na pinauli ni angka anak ni djolma.
Dungi ninna Djahowa ma: ida ma sada do bangso djala sada pangkuling di nasida sude, djala nunga dipungka nasida paulihon angkai. Onpe tung so hasundatan paulihon saluhut na sinangkapnasidai.
Tole, tuat ma Hita djala tagaor pangkulingnasida disi, asa unang be diantusi sahalak pangkuling ni donganna.
Djadi dipaserak Djahowa ma nasida siani tu liat portibion, gabe mansohot nasida paulihon hutai.
Dibaheni didok goarna Babel, ala disi do digaor Djahowa pangkuling ni sandok isi ni tanoon, djala siani dipaserak Djahowa nasida tu liat portibion.
Source: Bibel. Padan Na Robi & Padan Na Imbaru. Old & New Testament (Reprints) in Toba Batak. Lembaga Alkitab Idonesia, Indonesian Bible Society, 1982.
---
Batak Simalungun
Menara na i Babel
Samasam hinan do hata i sab tanoh on anjaha sada do parsahapan.
Sanggah na bungkas sidea hun habinsaran, jumpah sidea ma sada pamah i nagori Sinear, jadi marianan ma sidea ijai.
Nini sidea ma samah sidea: Topa hita ma batu merah anjaha tutung hita ma dear-dear. Tanoh na tinutung ai ma ipakei sidea jadi batu anjaha samasam hirtah ipakei jadi panrohat.
Nini sidea ma: Pungkah hita ma sada huta ampa sada menara banta, na das hu langit pakpakni anjaha bahen hita ma banta sada goran, ase ulang merap hita hu sab tanoh on.
Jadi turun ma Jahowa laho mangidah huta ampa menara, na pinauli ni jolma ai,
dob ai nini ma: Tonggor ma, sada bangsa anjaha sada sahap do sidea ganup. Pamungkah ni na sihol sibahenon ni sidea ope on; anjaha aha pe lang humbani na dob sinurahon ni sidea, na so tarjadihon sidea.
Eta, turun ma hita, geori hita ma sahap ni sidea ijai, ase ulang marsiarusan sahap be sidea.
Sonai ma sidea ipaerap Naibata hunjai hu sab dunia on, jadi maronti ma sidea na pauli huta ai.
Halani ai ibahen ma goran ni huta ai Babel, halani ijai do igeori Jahowa sahap ni ganup dunia on, hunjai ma ipaerap Jehowa sidea hu sab dunia on.
Source: Bibel. Padan Na Basaia & Padan Na Baru. Old & New Testament in Batak Simalungun. Lembaga Alkitab Idonesia, Indonesian Bible Society, 1981.
Contributed by Wolfgang Kuhl
Information about Batak | Phrases | Numbers | Tower of Babel
Tower of Babel in Malayo-Polynesian languages
Acehnese, Adzera, Amarasi, Ambrym, Anuki, Are, Balinese, Bambam, Bariai, Batak Angkola, Batak Simalungun, Batak Toba, Biatah Bidayuh, Bola, Bugis, Bwaidoka, Caribbean Javanese, Dawan, Fijian, Helong, Hiri Motu, Iban, Indonesian, Jarai, Kadazandusun, Kahua, Kakabai, Kambera, Kaninuwa, Kenyah, Kurti, Javanese, Luang, Madurese, Makassar, Malagasy, Malay, Mbula, Misima-Paneati, Motu, Nali, Ngaju, Nias, North Efate, Nyindrou, Paama, Palawano, Rade, Rotuman, Saveeng Tuam, Suau, Sundanese, Timugon Murut, Tolai, Tontemboan, Toraja-Sa'dan, Tungag, Ubir, Wandamen, Yabem
Other Tower of Babel translations
By language | By language family
[top]
---

Why not share this page:

If you like this site and find it useful, you can support it by making a donation via PayPal or Patreon, or by contributing in other ways. Omniglot is how I make my living.
Note: all links on this site to Amazon.com
, Amazon.co.uk
and Amazon.fr
are affiliate links. This means I earn a commission if you click on any of them and buy something. So by clicking on these links you can help to support this site.
[top]