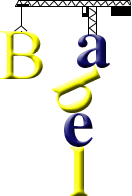 The Tower of Babel (Genesis 11: 1-9)
മലയാളം (Malayalam)
ഭൂമിയില്‌ ഒക്കെയും ഒരേ ഭാഷയും ഒരേ വാക്കും ആയിരുന്നു.
എന്നാല്‌ അവര്‌ കിഴക്കോട്ടു യാത്ര ചെയ്തു, ശിനാര്‌ദേശത്തു ഒരു സമഭൂമി കണ്ടു അവിടെ കുടിയിരുന്നു.
അവര്‌ തമ്മില്‌: വരുവിന്‌, നാം ഇഷ്ടിക അറുത്തു ചുടുക എന്നു പറഞ്ഞു. അങ്ങനെ അവര്‌ ഇഷ്ടിക കല്ലായും പശമണ്ണു കുമ്മായമായും ഉപയോഗിച്ചു.
വരുവിന്‌, നാം ഭൂതലത്തില്‌ ഒക്കെയും ചിതറിപ്പോകാതിരിപ്പാന്‌ ഒരു പട്ടണവും ആകാശത്തോളം എത്തുന്ന ഒരു ഗോപുരവും പണിക; നമുക്കു ഒരു പേരുമുണ്ടാക്കുക എന്നു അവര്‌ പറഞ്ഞു.
മനുഷ്യര്‌ പണിത പട്ടണവും ഗോപുരവും കാണേണ്ടതിന്നു യഹോവ ഇറങ്ങിവന്നു.
അപ്പോള്‌ യഹോവ: ഇതാ, ജനം ഒന്നു അവര്‌ക്കെല്ലാവര്‌ക്കും ഭാഷയും ഒന്നു; ഇതും അവര്‌ ചെയ്തു തുടങ്ങുന്നു; അവര്‌ ചെയ്‌വാന്‌ നിരൂപിക്കുന്നതൊന്നും അവര്‌ക്കു അസാദ്ധ്യമാകയില്ല.
വരുവിന്‌; നാം ഇറങ്ങിച്ചെന്നു, അവര്‌ തമ്മില്‌ ഭാഷതിരിച്ചറിയാതിരിപ്പാന്‌ അവരുടെ ഭാഷ കലക്കിക്കളക എന്നു അരുളിച്ചെയ്തു.
അങ്ങനെ യഹോവ അവരെ അവിടെനിന്നു ഭൂതലത്തിലെങ്ങും ചിന്നിച്ചു; അവര്‌ പട്ടണം പണിയുന്നതു വിട്ടുകളഞ്ഞു.
സര്‌വ്വഭൂമിയിലെയും ഭാഷ യഹോവ അവിടെവെച്ചു കലക്കിക്കളകയാല്‌ അതിന്നു ബാബേല്‌ എന്നു പേരായി; യഹോവ അവരെ അവിടെനിന്നു ഭൂതലത്തില്‌ എങ്ങും ചിന്നിച്ചുകളഞ്ഞു.
You can also see the above text as an image if it doesn't display correctly in your browser.
Transliteration
bhoomiyilu okkeyum ore bhashayum ore vakkum aayirunnu.
ennalu avaru kizhakkottu yathra cheythu, shinaruudeshathu oru samabhoomi kandu avide kudiyirunnu.
avaru thammilu: varuvinu, nam ishtika aruthu chutuka ennu paranju. angane avaru ishtika kallayum pashamannu kummayamayum upayeagichu.
varuvinu, nam bhoothalathilu okkeyum chitharippeakathirippanu oru pattanavum akashathealam ethunna oru gaapuravum panika; namukku oru perumundakkuka ennu avaru paranju.
manushyaru panitha pattanavum gopuravum kanendathinnu yahova irangivannu.
appealu yahova: itha, janam onnu avaruukkellavaruukkum bhashayum onnu; ithum avaru cheythu thudangunnu; avaru cheyuvanu niroopikkunnathonnum avarukku asaddhyamakayilla.
varuvinu; nam irangichennu, avaru thammilu bhashathirichariyathirippanu avarude bhasha kalakkikkalaka ennu arulicheythu.
angane yahova avare avideninnu bhoothalathilengum chinnichu; avaru pattanam paniyunnathu vittukalanju.
saruvuvabhoomiyileyum bhasha yahova avidevechu kalakkikkalakayalu athinnu babelu ennu perayi; yaheava avare avideninnu bhoothalathilu engum chinnichukalanju.
Source: http://216.156.35.218/Default.asp
Information about Malayalam | Suriyani Malayalam | Phrases | Numbers | Tower of Babel | Learning materials
Tower of Babel in other Dravidian languages
Kannada, Malayalam, Tamil, Telugu, Tulu
Other Tower of Babel translations
By language | By language family
---
If you need to type in many different languages, the Q International Keyboard can help. It enables you to type almost any language that uses the Latin, Cyrillic or Greek alphabets, and is free.
If you like this site and find it useful, you can support it by making a donation via PayPal or Patreon, or by contributing in other ways. Omniglot is how I make my living.
Note: all links on this site to Amazon.com
, Amazon.co.uk
and Amazon.fr
are affiliate links. This means I earn a commission if you click on any of them and buy something. So by clicking on these links you can help to support this site.