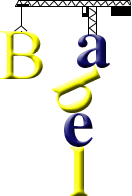 The Tower of Babel
Pijin
Long barava bifoa kam, olketa pipol long olketa ples long wol olketa garem wanfala langguis nomoa, an olketa gohed fo yusim sem toktok nomoa.
Nao taem olketa muv go from saet long ist, olketa faendem wanfala flat ples long kantri long Sinaa. Nao olketa mekem taon blong olketa long disfala ples.
Nao olketa tok olsem, "!Olketa! Yumi tekem samfala graon, an wakem olketa brik long hem, an hotem long faea fo mekem olketa strong." Taem olketa duim olsem, olketa garem plande brik fo yusim olsem ston fo wakem haos, an olketa garem ta fo joenem olketa.
Nao olketa tok olsem, "Hemi gud fo yumi wakem wanfala taon blong yumi wea bae hemi garem wanfala haos long hem wea i barava hae tumas go-go hemi kasem long skae. From diswan bae yumi garem biknem, an bae yumi no stap seleva olobaot long evri ples long wol, bat bae yumi save stap tugeta nomoa." So olketa gohed fo wakem taon wetem haos ya nao.
Nao Yawe hemi kamdaon fo lukim olketa waka ya blong olketa,
an hemi tok olsem, "!Maewat! Olketa pipol ya i pipol blong wanfala ples nomoa, an olketa gohed fo yusim wanfala langguis tu. Disfala haos olketa jes wakem, hemi fas waka blong olketa nomoa ya. Bae no longtaem, olketa save mekem enisamting wea olketa laekem nomoa ya.
Moabeta yumi godaon fo miksimap langguis blong olketa, mekem olketa no save fo heresave long toktok blong olketa narawan."
Nao Yawe hemi mekem olketa fo lusim ples ya, an mekem olketa fo go stap olobaot long evri ples long wol, an olketa no wakem taon ya moa.
Nem blong taon ya nao Babilon, bikos long ples ya, Yawe hemi miksimap langguis blong olketa pipol long wol, an long ples ya, hemi ranemaot olketa pipol mekem olketa go stap olobaot long evri ples long wol.
Source: Pijin Bible. WBT – 2007 Edition. Bible Society of the South Pacific.
Contributed by Wolfgang Kuhl
Information about Pijin | Numbers | Tower of Babel
Tower of Babel in Pidgins and Creoles
Bislama, Haitian Creole, Hawaiian Pidgin, Kupang, Kriol, Papiamentu, Pijin, Seychelles Creole, Sranan Tongo, Tetun Dili, Tok Pisin, Torres Strait Creole
Other Tower of Babel translations
By language | By language family
---
If you need to type in many different languages, the Q International Keyboard can help. It enables you to type almost any language that uses the Latin, Cyrillic or Greek alphabets, and is free.
If you like this site and find it useful, you can support it by making a donation via PayPal or Patreon, or by contributing in other ways. Omniglot is how I make my living.
Note: all links on this site to Amazon.com
, Amazon.co.uk
and Amazon.fr
are affiliate links. This means I earn a commission if you click on any of them and buy something. So by clicking on these links you can help to support this site.