Bavarian (Boarisch)
Bavarian is a West Germanic language spoken in Bavaria, Austria, Italy and the Czech Republic. In the Free State of Bavaria (Freistaat Bayern) in the southeast of Germany (Deitschland), Bavarian is spoken mainly in the districts of Upper Bavaria (Obabayern) and Lower Bavaria (Niadabayern). In Austria it is spoken in the states of Lower Austria (Niedaöstareich), Salzburg (Soizburg), Carinthia (Karntn) and Styria (Steiamoak).
In Italy Bavarian is spoken in the Trentino-Alto Adige (Trentino-Sidtiroul) region of South Tyrol. In the Czech Republic there are Bavarian speakers in the regions of South Bohemia (Jihočeský kraj), Karlovy Vary, Plzeň, and Vysočina. There are also some Bavarian speakers in Grisons in Switzerland, and in Sopron in Hungary.
Bavarian at a glance
Native name: Boarisch [ˈbɔɑrɪʃ]
Language family: Indo-European, Germanic, West Germanic, Irminones, High German, Upper German
Number of speakers: c. 14 million
Spoken in: Bavaria, Austria, Italy and the Czech Republic
First written: 11th century
Writing system: Latin script
In 2005 there were about 6 million speakers of Bavarian in Bavaria, 250,000 in Italy and 9,000 in the Czech Republic. According to the European Commission, there were 7.8 million speakers of Bavarian in Austria in 2012. The total number of speakers is about 14 million [source].
Bavarian is mainly used as a spoken language and is rarely used in writing. Instead Standard German, which is known as Schriffdeutsch (written German), is used. There is no standard way of writing Bavarian and it is not taught in schools. There are, however, some written materials in the language, such as grammars, poetry and a translation of the Bible. Bavarian is also used in songs.
There are three main varieties of Bavarian:
Northern Bavarian (Noadboarisch), which is spoken in the district of Wunsiedel in Upper Franconia (Obafrankn) in Bavaria
Central Bavarian (Middlboarisch - Danube/Danubian Bavarian), which is spoken in Munich, Upper Bavaria, Lower Bavaria, southern Upper Palatinate, and in the Swabian district of Aichach-Friedberg in Bavaria; and in northern parts of the State of Salzburg, Upper Austria, Lower Austria, and Vienna in Austria
Southern Bavarian (Siidboarisch - Alpine Bavarian), which is spoken in Tyrol, Carinthia, Styria and southern parts of Salzburg and Burgenland in Austria, and in South Tyrol in northern Italy.
Bavarian alphabet
| A a | À à | Â â | Å å | Ã ã | Ă ă | Ä ä | B b | C c |
| --- | --- | --- | --- | --- | --- | --- | --- | --- |
| D d | E e | È è | É é | Ê ê | Ẽ ẽ | Ĕ ĕ | F f | G g |
| H h | I i | Î î | J j | K k | L l | M m | N n | O o |
| Ò ò | Ó ó | Ô ô | Ŏ ŏ | Ö ö | P p | Q q | R r | S s |
| T t | U u | Û û | Ü ü | V v | W w | X x | Y y | Z z |
Source: https://bar.wikipedia.org/wiki/Wikipedia:Boarische_Umschrift
Northern Bavarian pronunciation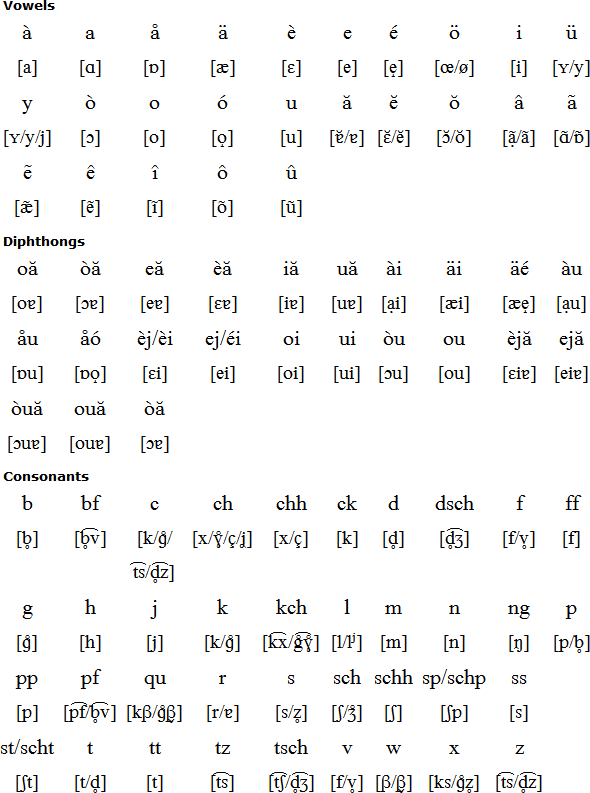 Details of Bavarian pronunciation supplied by Michael Peter Füstumum
Source: https://bar.wikipedia.org/wiki/Wikipedia:Boarische_Umschrift
Sample of Bavarian
Northern Bavarian
I bin in den Stadl gegangn, und do warn Taubn drinna, und do is om vo da Mühle aa is om Gedreide aufgschütt gwesd
IPA transcription
ɪç bɪn ɪn ʒdoːᵈl ɡɔŋə, ᶷn do βoən daːm drɪnə, ᶷn dao ɪz uəm və də mlʲ aː ɪz uəm troi̯t aːvɡʒit kβeːzd...
Standard German version
Ich bin in den Stadel gegangen, und da waren Tauben drinnen, und da ist oben von der Mühle auch ist oben Getreide aufgeschüttet gewesen...
English Translation
I went into the barn, and there were pigeons in it, and then, upstairs, there was grain heaped up as well, from the mill...
Source: http://en.wikipedia.org/wiki/Northern_Bavarian
Sample videos in Bavarian
Information about Bavarian | Phrases | Numbers | Tower of Babel
Learn Bavarian
Price:

$33.80

List Price:

$39.80

You save:

15%
In Stock.
Add to cart
Try it for free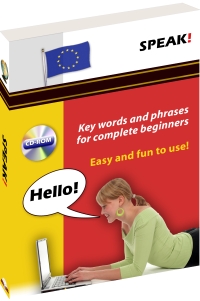 Links
Information about Bavarian
http://en.wikipedia.org/wiki/Bavarian_language
http://en.wikipedia.org/wiki/Northern_Bavarian
https://en.wikipedia.org/wiki/Central_Bavarian
https://en.wikipedia.org/wiki/Southern_Bavarian
http://de.wikipedia.org/wiki/Bairische_Dialekte
http://www.bayrisches-woerterbuch.de/aussprache-bayrisch/
http://www.dw.de/deutsch-lernen/bairisch/s-12464
http://boaric.eu/
https://www.ethnologue.com/language/bar
https://www.sprachnudel.de/sprachvarietaeten/dialekt/bayrisch
Bavarian courses
http://www.bayrisch-lernen.de
http://www.bairische-sprache.at/Index/Remaraweng Boarisch.htm
http://www.elkeswelt.de/sprachschatz/bayerisch/
Bavarian dictionaries
http://www.bairisch.org
http://www.bayrisches-woerterbuch.de
http://www.deutsch-bairisch.de
http://www.bayrisches-dialekt-woerterbuch.com/
Bavarian-German translator app
http://www.respekt-empire.de/Translator/
Find German Tutors, Teachers and Lesson Help
Germanic languages
Afrikaans, Alsatian, Bavarian, Cimbrian, Danish, Dutch, Elfdalian, English, Faroese, Flemish, Frisian (East), Frisian (North), Frisian (Saterland), Frisian (West), German, Gothic, Gottscheerish, Gronings, Hunsrik, Icelandic, Limburgish, Low German, Luxembourgish, Mòcheno, Norn, Norwegian, Old English, Old Norse, Pennsylvania German, Ripuarian, Scots, Shetland(ic), Stellingwarfs, Swabian, Swedish, Swiss German, Transylvanian Saxon, Värmlandic, Wymysorys, Yiddish, Yola, Zeelandic
Languages written with the Latin alphabet
Page last modified: 21.03.23
[top]
---

Why not share this page:

If you like this site and find it useful, you can support it by making a donation via PayPal or Patreon, or by contributing in other ways. Omniglot is how I make my living.
Note: all links on this site to Amazon.com
, Amazon.co.uk
and Amazon.fr
are affiliate links. This means I earn a commission if you click on any of them and buy something. So by clicking on these links you can help to support this site.
Get a 30-day Free Trial of Amazon Prime (UK)
If you're looking for home or car insurance in the UK, why not try Policy Expert?
[top]