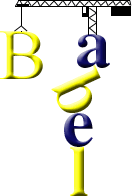 The Tower of Babel (Genesis 11: 1-9)
Gumatj
Godthu guḻk-guḻkthurruna dhäruknha yolŋu'-yulŋunhanydja barrkuwatjkuŋalana
1. Ga ŋulinyaramirriyunydja ŋäthilinydja bukmak ŋunhi yolŋu walala ŋuli yukurranha waŋanha waŋganygurru yana dhäruktja,
2. ga nhinanhanydja walala yukurranha wäŋaŋuranydja balkuwarraŋura, baṉarraŋura yana wäŋaŋura, ŋunhala Bapilun.
3-4. Walala waŋanharaminanydja, walala yurru nhina ŋunhili bili wäŋaŋura mukthunna, waŋgany yana mala: bitjarrana walala waŋanhaminanydja gam', "Ŋilimurrunydja yurru ga dhiyalana yukurra nhina. Gul' ŋilimurru dhoḻuna dhiṯthun, bala ŋomaṉna wuṉḏaŋarrkuma gurthayuna, märr ŋilimurru dhuḻ'yun yurru wäŋana ŋilimurruŋguway dhiyala. Ŋilimurru yurru dhuḻ'yundja buṉbu dhiŋgikuma walŋu yana, be-wala weyinguma yurru, märr yurru dhanu'yun ŋunha walŋu djiwarrny'tja wäŋa; dhiyaŋunydja ŋilimurru yurru yäkumirrina walala yolŋu'-yulŋu, yindithirrina walŋu yurru mala, märr ŋilimurru yaka muka barrkuwatjthirrinydja wäŋalili malanyŋulili." Bitjarrana walala waŋanharaminanydja, bala yana walala ŋurru-yirr'yurruna djämana, dhuḻ'yurrunana marrtjina.
5. Yo, Garrayyunydja Gunhu'yu nhäma yukurra walalanha, ŋunhi walala marrtji dhuḻ'yun walalaŋguway wäŋa malanha ŋunhimala, ga biyapul ŋunhi yindi buṉbu walala marrtji dhuḻ'yun weyinguma.
6. Ŋe, Garrayyunydja nhäma yukurra, bala yana waŋa bitjanna, "Yolŋunydja walala yukurra dhuwala nhina waŋgany yana mala, ga waŋgany yana dhäruktja. Ŋuli walala yurru bitjandja liŋgu waŋganyŋuranydja nhina yukurra, waŋganydja mala, galki walala yurru marŋgithirrina, bala yurru walala ŋula nhä djämana ŋunhi walalawuy yurru nhäku ŋula ḏukṯukthirri.
7. Ŋarra yurru dhäruktja djambina guḻk-guḻkthunna gam' walalanha, barrkuwatjkumana; walala waŋanydja yukurra yurru wiripuna ga wiripuna dhäruktja, märr walala yurru ŋäma dhäruktja ŋamunharamirrina." Bitjarra ŋayi Godthu waŋananydja.
8. Ga bitjarrayi ŋayipi Godthu yana barrkuwatjkuŋalanydja marrtjina yolŋunha walalanha wäŋalili ga wäŋalili dhika, wiripulilina ga wiripulilina. ḏaḏawyurrunana walala dhuḻ'yunaraŋuru buṉbuŋuru ŋuliŋuruyinydja, bala yana barrkuwatjthinana marrtjina dhika, wäŋgaŋalana yukurrana.
9. Ga yäkunydja ŋayi ŋunhiyi wäŋa Bapilun, liŋgu ŋunhalayinydja wäŋaŋura Garrayyu djambi walalanha dhäruk malalili ga malalili ga malalili, yurruna yolŋunydja walala buḻwaŋ'thurruna dhika wäŋakurru buku-ḻiw'maraŋalanydja.
Source: http://aboriginalbibles.org.au/Gumatj/frame_GEN11.htm
Contributed by Wolfgang Kuhl
Gumatj is a dialect of Dhuwal, a Pama-Nyungan language spoken in the Northern Territory of Australia.
More information about Gumatj
http://www.ethnologue.com/language/gnn
http://en.wikipedia.org/wiki/Dhuwal_language
Tower of Babel in Pama-Nyungan languages
Alyawarr, Gumatj, Guugu Yalandji, Kala Lagaw Ya, Martu Wangka, Ngaanyatjarra, Warlpiri
Other Tower of Babel translations
By language | By language family