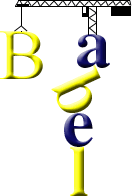 The Tower of Babel (Genesis 11: 1-9)
Martu Wangka
Mamakuluraya yumurringu nyinangu
Nuuwaku marlajanukajaya laltukuyarrarringu, wulikajaya nyinangu wangka kujukurlu. Ngurra parlparringkaya nyinapayi parna walyjawana. Kujungkarriraya kakarra yanu parna Papilunkarti. Parna palunyangkaya wulu nyinapayi. Maya palyalkijalunkuya wajarnu jilanya, "Pakarala warrkamurrira kirtiyurukajala mankura. Yapuyurula laltu palyala jurra!, tikirlarrira yapurriraku." Jiiwintiluya maya palyalpayi, kirtiwintilu. Wajarnunkuya, "Maya laltula palyalku. Maya kuju majula palyalku, kankararrakarti, ngurra kujupamartajilulanyaya yankura nyakula marninypungkura, maya kankararra yikini. Maya laltulanku palyalku ngurra kujupakarti yankujakungkamarra." Jilanyaya kulirnuka mayakaja palyarnu.
Palunyangka Mama ngarnawarrapurlukalu tiputingu nyangu maya kankarrakarti ngaranyjan, maya kujupa, maya kujupa laltulurrju. Nyangu walyjalunku kulirnu jilanyalu, "Kujungkarringuya mayangka kujungka, wangka kujuwinti. Ngurra walyjangkaya jaalpu jaalpu nyinangara." Nyanguka Mama ngarnawarrapurlukalu wajarnu, "Walyjararrankurnajanampa wangka kujupakartilku. Walyjararranpa kujupakurnajanampa wangka kujurpakartilku.
Jilanyaya wangka kujupakurlu kujupakurlu nyinaku." Jilanyajanampa Mamalu wangka kujupakartirnu, yiyarnujananya ngurra walyjakartiya jaalpu jaalpu nyinaraku. Maya palukajaya laltukaja junu yanu.
Source: Mamamili Wangka. Genesis paraphrase and Shorter New Testament in Martu Wangka, Western Australia. The Bible Society in Australia, Canberra, 1999.
Contributed by Wolfgang Kuhl
Martu Wangka is a Pama–Nyungan language spoken in desert areas of Western Australia, South Australia and the Northern Territory of Australia by several thousand people.
More information about Martu Wangka
http://www.ethnologue.com/language/mpj
http://en.wikipedia.org/wiki/Martu_Wangka_language
Tower of Babel in Pama-Nyungan languages
Alyawarr, Gumatj, Guugu Yalandji, Kala Lagaw Ya, Martu Wangka, Ngaanyatjarra, Warlpiri
Other Tower of Babel translations
By language | By language family