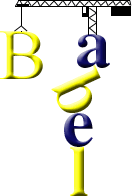 The Tower of Babel (Genesis 11: 1-9)
Wenedyk (Venedic)
Turz Bable
I tuty mąd owa wyna lęgwa jak ile sule porule.
Maż posie, kód kędy miegrawą za orzęcie, li jęwieńszorą płan en pazie Szynaru i jądź jewtaskierą.
I li dziczewą wyniałtrzy: "Wnieć, faczem cegle i bień łasz kokwiem." I cegle śrewiewą lew komód sasa, maż smoła śrewiewa lew komód cemię.
I li dziczewą: "Wnieć, jedziewkam czytać i turz, kiełmię kwalej jerzy tążer o czał, i faczem si numię, prokódsimy sie nie desprzeżer sur tuty mąd."
Tęk Dziew dzieszcządszy prokód widziar czytać i turz kwale nacie ludzi jedziewkawą.
I Dziew dziczewa: "Widzieć! Wyn popeł i wyna lęgwa pro tutór, maż cześć kód li komięcorą faczer. I stawiecz nił nie jerzy pro łór nieposibły, kódsię li nie wlar faczer.
Widzieć! Dzieszcządszerzym i miskierzym łór lęgwa, prokódsię li nie koprzędzier wyniałtru."
I Dziew desprzegszy łosz sur surficz tutu mędu, maż li parstarą jedziewkar czytać.
Prołu ła opiała sie Babel, prostokód jądź Dziew miski lęgwa tutu mędu i źwielęc Dziew desprzegszy łosz sur tuty mąd.
Contributed by Wolfgang Kuhl
Venedic is a constructed language that shows what Polish might have looked like if it were a Romance language.
Information about Wenedyk
http://steen.free.fr/wenedyk/
The Tower of Babel in constructed languages/alphabets
Avorentas HGV, Bel'Arian, Brithenig, Cujoltha, Fishscales, Gyorsrovás, Klingon, Kweda, Nassian, Oxidilogi, Quenya, Quikscript, Sabethir, Silesian, Toki Pona, Üqoi, Viozian, Venedic
Other Tower of Babel translations
By language | By language family