Bel'Arian
Bel'Arian is yet another alphabet created by the people in Dardaniell, the fictional world invented by Pieter Rottiers. It's a Dardanian word and means Silver Sea, named that way because at the time of its appearence it was a far more fluent way of writing than most earlier alphabets (such as Ancient Runes, Dhingion Niginair and Gorwelion), and quite a bit broader too (it doesn't use diacritics for the vowels).
Notable features
Type of writing system: alphabet
Direction of writing: left to right in horizontal lines
Used to write: Dardain
The form of the letters depends on it's voicing. Voiceless characters have only the primal form, voiced ones also receive a lhaif, a bow that indicates voice. That lhaif also is the symbol used for the h. Sonorants (j, l, r, h, m, n, ŋ, w) don't follow that pattern.
There are no distinct capitals in Bel'Arian. At the beginning of a paragraph though, the first letter is often written (substantially) larger.
Bel'Arian alphabet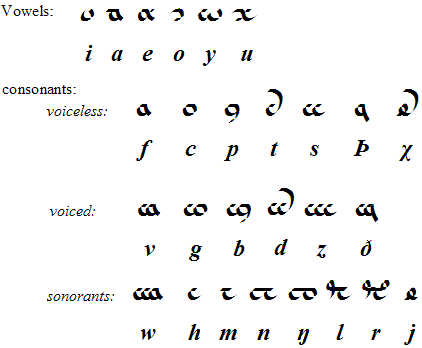 Bel'Arian numerals
As numerals in Bel'Arian other characters are used. To distinguish them from the actual characters, they are always given a penan, a letter sign. The characters that are used are h, i, u, o, a, c, f, m, j, e. All of them are small, short characters, suitable for penanisation.

Punctuation

Sample texts in the Bel'Arian alphabet

Transliteration
Jezintar, dwynar bhfrebrinain mus'petrisil dhingir gcathic chiniat a'sorônn hornîl ervinair.
Translation
Jezintar, the thief of the most feared examination speaks tempting words to the dignified beggar's daughter.
This is a pangram in the Dardain language: it contains all letters of the alphabet

Transliteration
run'daerir saran hwi saiar in hornilîn hwi darcharîr nasil simoriat. Tharen hanwil hwi gcinsaen danwil ennoriat, hwi thare in sinhir bhfaridhinain thar araliniar turoriat.
Translation
All human beings are born free and equal in dignity and rights. They are endowed with reason and conscience and should act towards one another in a spirit of brotherhood.
(Article 1 of the Universal Declaration of Human Rights)
Longer sample text (Tower of Babel)
Download a Bel'Arian font (TrueType format, 11K)
If you have any questions about the Bel'Arian alphabet, you can contact Pieter Rottiers at

Scripts invented by Pieter Rottiers
Bel'Arian, Cwirhald, Dhingion Niginair, Gorwelion, Nirichaen, Sadhain, Shirn Brádulë
Other writing systems invented by visitors to this site